How To Start Selling On Fine Art America (And Make Money)
Are you ready to learn how to start selling on Fine Art America?
Over 500,000 artists and photographers are making money selling their work on this platform already.
What are you waiting for?
Selling original paintings and drawings in different forms (prints and reproductions) is one of the most popular ways to increase your art business's revenue.
Sure, there are many ways to earn online as an artist these days.
Still, offering prints of artworks you already have is a marketing strategy that is worth the effort.
Today, I'll walk you through the process of selling your art on Fine Art America.
This post may contain affiliate links – read my affiliate disclosure.
Recommended Read:
What Is Fine Art America?
Basically, Fine Art America is one of the largest Print-On-Demand (POD) companies artists and photographers can use to make money from their art.
The platform welcomes artists from all over the world.
Founded way back in 2006, Fine Art America has grown enormously over the years:
As you already know, more than half a million people rely on the site to boost their art sales and reach a brand new audience.
Nowadays, you can sell all kinds of prints and posters on Fine Art America.
In other words, the website will allow you to start offering reproductions of your original artwork to potential customers.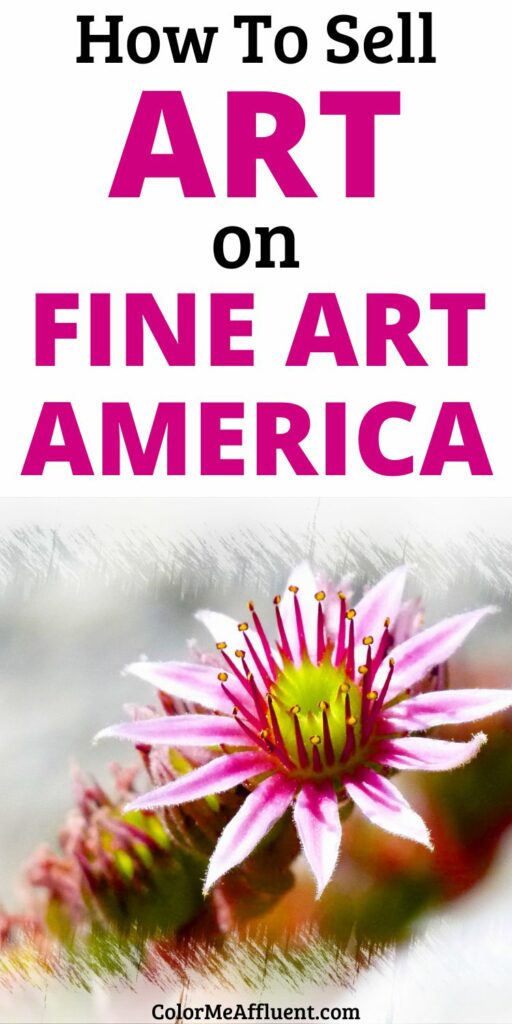 Can you imagine seeing your artwork as a print, canvas, phone cases, throw pillows, towels, and even greeting cards?
Hopefully, you can, because that's what you'll be able to do once you join Fine Art America as a seller!
Pros And Cons Of Selling On Fine Art America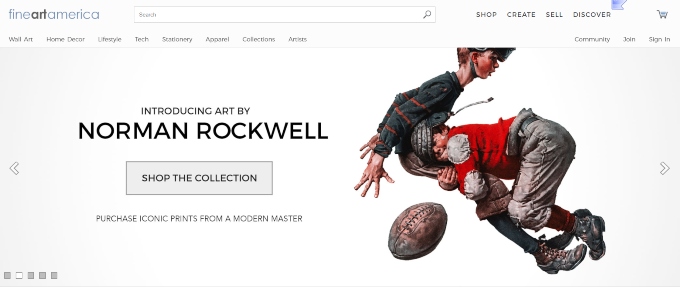 Pros:
Long History In The Art Industry: Fine Art America presents itself as the leader in the selling prints and reproductions field.
Large Audience: Generally speaking, Fine Art America attracts between 75,000-100,000 visitors a day.
Artists Set Their Prices: Above all, the platform allows its sellers to choose the markup and product price.
Easy To Use: Once you make your first product sale, Fine Art America will accept the order, print it, and ship it to the customer on your behalf.
Free To Join: Currently, Fine Art America offers free and premium memberships.
Cons:
Premium Membership Fee: If you want to use the premium membership on the site, you'll have to pay $30 a year.
The Platform Owns The Customer's Info: So, you won't be able to collect email addresses and build an email list from the site's visitors.
What To Do Before You Start Selling On Fine Art America
Let's get something straight:
Showcasing your art to a worldwide audience should not be just a hobby. Instead, it has to be a business that will hopefully bring you a full-time income down the line.
When you become a business owner, you'll be in control of all aspects of how that business performs.
While there is nothing wrong with selling art on platforms like Fine Art America, they won't let you have creative control over your artwork.
With that said, what can you do to be in the driver's seat of your business?
Well, the best thing you can do to have a final say over the way you want to sell your art is to launch a website.
Owning a website will put you in a position where the performance of your business won't depend on third-party platforms – no matter how useful they might be.
Now, launching an art website is more than simple these days:
Visit BigScoots to secure fast and reliable hosting, and go from there!
How To Start Selling On Fine Art America – Step-By-Step Guide
1) Register As An Art Seller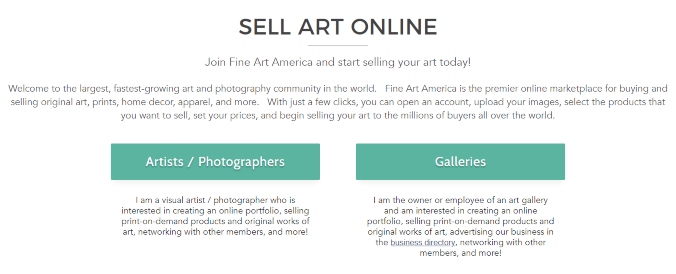 Alright, the first thing you need to do to begin selling your art on Fine Art America is to visit the official site (fineartamerica.com).
Next, you'll need to choose how you want to sell your art – you can either sell as an artist/photographer or as a gallery's owner.
Assuming that you'll be selling as an artist or photographer, click the relevant link and move on to the next step.
2) Create An Account
I know that you must be impatient to start selling on Fine Art America, but you're not quite there yet!
First, you'll have to finish registering your account.
To do that, provide all the necessary information about yourself to the platform.
For example, you'll need to fill in your name, city, country, postal code, and email address.
As soon as you take care of that, wait for a confirmation email.
Needless to say, click on the link once that email arrives to complete the creation of your Fine Art America art seller account.
3) Complete Your Bio
Now, don't skip completing your bio as an art seller:
After all, your bio will introduce you as an artist to thousands of potential clients. Therefore, think of a way to put into words what your art business is all about and who you are as an artist.
Letting visitors know why you do what you do with your art will help people to connect with you and your artwork.
4) Upload Your First Product Image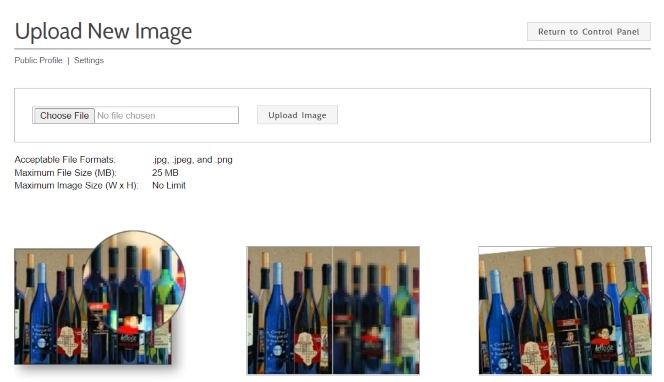 Alright, it's time for the fun part to begin!
After finishing with your bio, you shouldn't waste any time:
You're ready to start uploading your artwork. Here is how to do that:
Click On Behind The Scenes: You'll find this option when you hover over your name.
Go To Artwork – Upload Image: Fine Art America will give you the opportunity to upload multiple product images. However, we'll start with one now, so feel free to change the default settings.
Upload Your First Art Image: Pick the image you want to upload from your computer. To clarify, your product images have to be less than 25 MB.
Add Image Info: Provide the artist's name, the title of the artwork, medium, keywords, description, and art category.
Choose Your Prices: As you already know, you're the one to decide at what price your products should be selling.
5) Learn How To Use Fine Art America Widgets
By all means, the best way to assure that selling on Fine Art America will bring you a stable income is using the platform's widgets on your blog.
Why should you take advantage of those widgets?
To sum up, the widgets will allow you to showcase your best artwork to your audience and increase your art sales.
If you decide to generate the code, that code will fill your blog's pages with your products and their prices.
In other words, your readers will have the chance to purchase your art without having to leave your website to visit Fine Art America and look for them there.
How To Install The Fine Art America WordPress Website Widget
Quite frankly, installing the widget is a simple process:
Login to your Fine Art America account
Locate the Behind The Scenes tab
Find the Marketing Section
Click on Shopping Cart Widgets
Choose a suitable for your brand widget and customize the colors
Copy the code
Sign in to your WordPress Admin Dashboard, click Add New Page, and then click HTML
Paste the code, add your product title, and submit
Now, you should know that the website widgets and the Facebook widgets are available only to Fine Art America sellers with premium memberships.
Tips And Ideas To Help You Sell More On Fine Art America
1) Do Keyword Research
Basically, people visiting Fine Art America search for art they would like to buy through keywords and tags.
Knowing the most popular keywords (relevant to your business) readers type will help your art become discoverable more easily.
It goes without saying that you need to add your main keywords to a product's title and description.
Doing keyword research manually will not be enough – it's better to use a keyword research tool to brainstorm keyword ideas.
2) Read The Fine Art America Blog
Again, access to the Fine Art America Blog is possible only for premium users of the platform.
But if you're, following the articles on that blog will prove to be priceless:
More often than not, the content you'll be able to read on the FAA blog will give you insights into trending products and what clients are searching for the most at the moment.
Later on, you can use that information to adjust your selling on Fine Art America strategy.
3) Use Social Media
Think what you will, but Social Media is an incredible tool with enormous business and marketing potential.
Considering you're in the business of selling art, you'll be crazy not to take advantage of the reach different Social Media platforms will be able to offer you.
Regardless of what Social Media platform you use to promote and sell your art, don't forget to share your Fine Art America listings on it.
Related Read:
Selling On Fine Art America – Frequently Asked Questions
Is Fine Art America Legit?
Yes, Fine Art America is a legitimate online platform art business owners can use to increase their sales.
The site has been working for almost 20 years.
Is It Worth Selling On Fine Art America?
These days, Fine Art America attracts thousands of art lovers every single day.
Artists and photographers who list high-quality prints of their artwork have the opportunity to make a decent income from art sales through the platform.
What Sells The Most On Fine Art America?
Posters
Art prints
Framed prints
Tapestries
What Percentage Does Fine Art America Take?
Once you register as an art seller on Fine Art America, you'll have to choose a base price for your products.
Meanwhile, FAA will add a 30% commission to that price – that commission exists for using the licensing services of the platform.
Final Say
Hopefully, you do appreciate learning the process behind selling on Fine Art America.
Long story short, that process is easy to manage – I'm sure you'll have no problem handling it.
With that said, I would love to read your opinion about listing art on FAA:
Do you think offering your art on the site is worth the effort?
Maybe you have some experience with Fine Art America and would like to share it?
Please, do so in the comments section below, and I'll take a look as soon as I can.
More Ideas From Color Me Affluent: