How To Sell Art On Redbubble And Make Money
Learning how to sell art on Redbubble is more than worth it if you're an independent artist who wants to live off its artwork.
These days, Redbubble is one of the largest online marketplaces that invites artists to sell digital art and make money for the effort.
While Redbubble might still be one of the most underrated websites to sell art online, it's also quite popular.
Actually, the popularity of Redbubble among artists and people who would like to become such is on the rise:
According to the statistics, Redbubble gets over 50 million visitors every month.
If you don't see that many shoppers as a large enough pool of potential clients, I don't know what else to tell you!
Today, I'll show you to begin selling art on Redbubble, and I'll answer many questions on this topic:
What is Redbubble, and how does it work for sellers?
Do you have to pay to sell on Redbubble?
How to create a Redbubble seller account?
Is selling art on Redbubble worth it?
Recommended Read:
What Is Redbubble?
Chances are, most of you are not aware of the fact that Redbubble is a platform with a long history:
The website was created way back in 2006 in Melbourne, Australia.
In my opinion, it doesn't take a genius to understand the idea behind Redbubble's existence:
By all means, the platform is here to allow independent artists to create and sell original artwork to a worldwide audience.
These days, Redbubble is the vessel that connects over 700,000 artists and designers with millions of people who want to pay for original art.
Again, let me remind you that over 50 million people visit Redbubble every month in a search of colorful, inspiring, and meaningful art.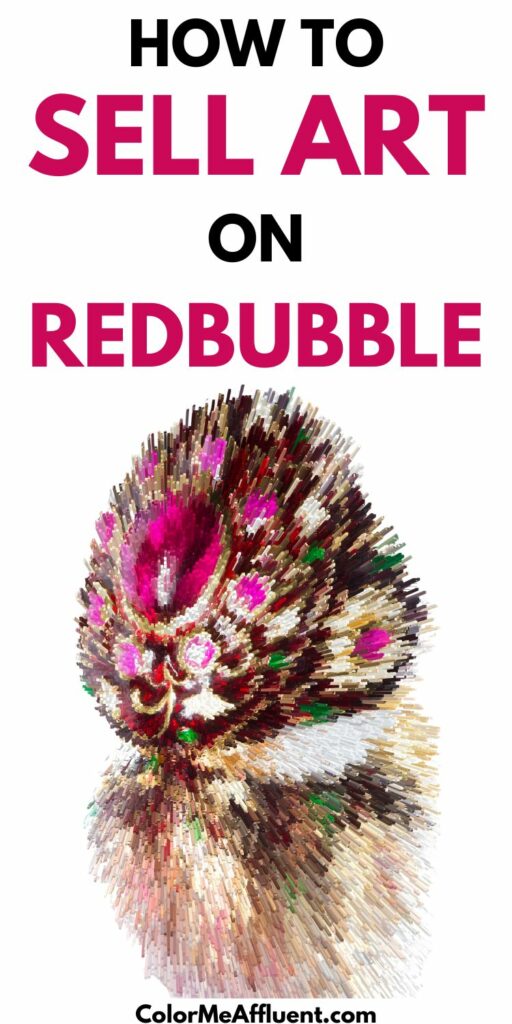 With that said, is Redbubble the best platform to showcase and offer your artwork?
Let's look at all the reasons why you should start offering your art creation on Redbubble from all places, shall we?
Why Should You Start Selling Art On Redbubble?
Well, you already know that Redbubble is the biggest online marketplace to sell art as an independent artist.
As such, it will provide enormous exposure to your artwork and tons of possibilities to make money by selling digital art.
However, these are not the only reasons why you must create a Redbubble seller account as soon as possible – there are others as well.
Firstly, Redbubble is incredibly easy to use. Even first-time art sellers with no experience will manage to showcase and market their work on the site.
Secondly, Redbubble will let you offer the same design on plenty of different items. Yes, you'll have the chance to earn money from one design that will shine on top of a variety of different products.
Also, it's worth mentioning that Redbubble will allow you to build a passive income stream in time:
Once you build your profile with hundreds of stunning art designs, the platform will keep selling them over and over again.
If you want to learn more about the advantages of marketing art on Redbubble, feel free to research queries such as Selling Art On Redbubble Reddit.
What Can You Sell On Redbubble?

Before I start showing you how to sell art on Redbubble, I want to take a minute to introduce you to the main product categories of the platform.
Nowadays, you can begin creating artwork and turn it into a product that will belong to one of the following categories:
Clothing (Hoodies, T-Shirts, Skirts, Dresses, Tank Tops, Leggings, Hats)
Stickers (Car, Helmet, Laptop, Magnets)
Masks (Fitted, Flat, For Kids)
Phone Cases
Wall Art (Art Prints, Canvas Prints, Metal Prints, Posters, etc.)
Home & Living (Aprons, Bath Mats, Coasters, Duvet Covers, Pillows, Mugs, etc.)
Kids & Babies (T-Shirts, Hoodies)
Pets (Bandanas, Blankets, Mats)
Accessories (Backpacks, Make-Up Bags, Scarves, etc.)
Stationery & Office (Greeting Cards, Postcards, Hardcover Journals, Spiral Notebooks)
Selling On Redbubble Review – Facts You Need To Know
First and foremost, launching your art business on Redbubble is a simple process.
All you need to begin offering your artwork on the platform is to sign up on the site to become a Redbubble seller.
Creating a Redbubble seller account is free of charge.
Once you have your account, you'll be able to start uploading your art designs.
Believe it or not, Redbubble is the one to handle most of the work.
For instance, the platform is responsible for the production of your artwork as soon as an order comes in. They'll ship the orders on your behalf, so you don't have to deal with that on your own.
Furthermore, Redbubble will take care of any possible issues with your products that might appear. Currently, the platform has an outstanding customer service department that will deal with your customers.
On top of all that, Redbubble is the one to handle all transactions and that includes paying your share of the profits.
The last thing you should know about selling art on Redbubble is that you'll keep your ownership of the designs – they will belong to you and no one else.
How To Sell Art On Redbubble – Step-By-Step Guide
Alright, it's time to walk you through the process of selling artwork on Redbubble from start to finish.
If you want to build a strong presence on the platform and earn well from selling your art, don't skip on any of the following steps:
1) Create A Redbuble Seller Account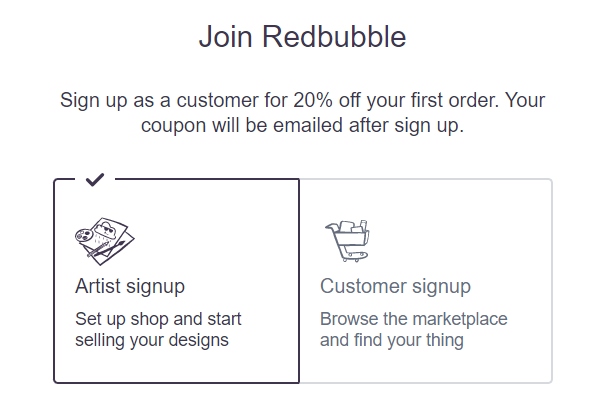 It shouldn't come as a surprise that the first thing you need to do to begin offering your art on Redbubble is to sign up on the site.
You can register to become a Redbuble seller on the platform's official site or by using this link.
There is nothing complicated about that sign-up process:
Add some basic info about yourself (name, email address, password), and finish signing up to be an art seller on Redbubble.
2) Build Your Redbubble Profile
Quite frankly, this is one of the essential paragraphs in this article that will teach you how to sell art on Redbubble:
Make no mistake – doing a good job with building your seller account matters a lot!
Considering this profile will introduce you as an artist to all potential clients, you should try your hardest to leave them with an unforgettable first impression.
Take advantage of the opportunity of being on Redbubble and allow your account to showcase the best of your artistic abilities.
I suggest adding a profile photo of your best art piece that represents your personal style as an artist.
3) Add Your Payment Details
After you finish your Rebubble seller account, your next step will be to provide your payment details.
After all, Redbubble has to pay in what way you prefer to receive your earnings once your art finds its buyers!
4) Upload Your Artwork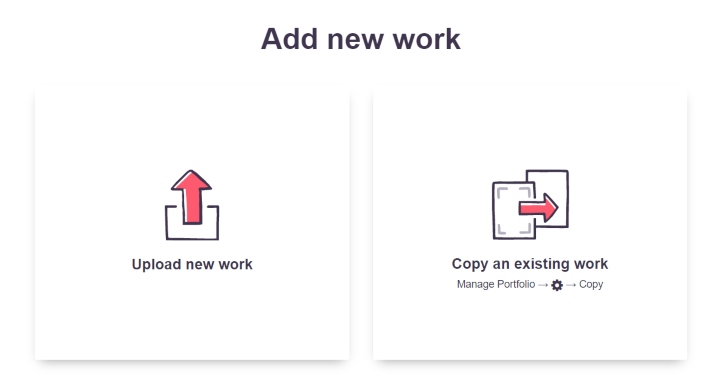 Next, it's time to add your art designs to the platform so they will be available for purchase to the customers.
Generally, uploading your art on Redbuble is a simple process – I don't think anyone will have issues doing it.
Currently, you can add up to 60 designs a day.
Each design image needs to have a title and tag. Feel free to type up to 15 tags that will help the visitors discover your art.
5) Place Your Art Design On Different Products
The last part of the answer to the question of how to sell art on Redbubble is choosing the products that will carry your design.
Redbubble will allow you to place your design on a variety of products.
You're the one to choose what kind of products your artwork will appear.
How To Sell Art On Redbubble – Tips And Ideas To Increase Your Art Sales
Do Keyword Research: Devoting some time to keyword research before you begin creating designs is a must. Finding keywords on trending topics will help you reach a larger audience on Redbubble.
Title Your Artwork Correctly: Chances are, most of you understand that Redbubble uses a search engine algorithm to display products to the readers. Subsequently, make sure to add keywords to your titles that best describe the nature of your art.
Build A Brand: If you want people to start recognizing your brand eventually, use consistent colors and designs that represent your unique abilities as an artist.
How To Make More Money Selling Art On Redbubble
Before I show you how to make sure that you'll receive the highest commissions possible, I have to explain how pricing artwork on Redbubble works.
To sum up, every product for sale in Redbubble has a price that is the total of the base cost plus your profit margin.
A base cost is a price the platform will display ready for you. Think of it as the price Redbubble wants to charge the customer for that specific artwork.
On another hand, your profit margin is the money you'll receive as a creator (the default profit margin of Redbubble is 20% of the base price).
Naturally, the retail price is the final cost the customer will end up paying.
Now, you have full control of the settings that will determine your profit as an artist.
I highly recommend slightly adjusting your commission margins so you'll earn a bit more for every piece of artwork you manage to sell.
How Does Redbubble Pay?
Nowadays, you can receive your earnings from Redbubble in a couple of ways.
The payment options you can take advantage of are PayPal, Apple Pay, Pre-Paid Debit Cards, Credit Cards, Sofort, and Amazon Payments.
How To Sell Art On Redbibble – Frequently Asked Questions
Is Redbubble A Good Place To Sell Art?
These days, Redbubble is the largest online platform that allows artists to profit from their talent and design skills by selling original artwork.
Whether Redbubble is the best place to sell art depends on a few factors that affect different artists in different ways.
Do You Have To Pay To Sell On Redbubble? Are There Any Redbubble Selling Fees?
No, you don't have to pay anything to begin selling on Redbubble.
Creating a Redbubble seller account is free of charge.
How Much Money Does The Average Person Make On Redbubble?
Artists make different amounts of earnings on Redbubble.
Some earn below $100 a month, while others take a full-time income home from selling their designs on the platform.
Can Anyone Sell On Redbubble?
Absolutely anyone can sign up for a Redbubble seller account and make money on the site by offering their work.
Final Say
Well, this is it – my take on how to sell art on Redbubble is coming to its end.
Again, offering your artwork on the platform is an excellent money-making idea you should take advantage of as soon as possible.
Allow your art pieces to reach a worldwide audience and get the money that will go along with doing so!
Do you have any questions on this topic?
I'll answer anything you would like to know.
More Content From Color Me Affluent You Might Like: