How To Sell Art On eBay And Make Money From Your Artwork
Do you want to know how to sell art on eBay?
These days, people can't rely on just one source of income. Of course, that rule applies to artists as well.
While there are many websites where you can sell your artwork, eBay deserves your special attention:
According to Statista, eBay is the second e-commerce site in the USA that gets the most monthly visits, with Amazon being the first.
Over 885 million people spend time on eBay every month – that's too giant of a pool of potential art buyers for you to ignore.
So, let's talk about how to sell paintings online using eBay, shall we?
Should You Sell Art On eBay?
Before we go any further, how about we spare a minute to glance at the overall picture?
Many of you may wonder – why eBay?
With so many other options, is offering artwork on eBay worth the time and effort?
Well, yes and no. Hear me out:
By all means, eBay is one of the longest-existing e-commerce websites up until now. After all, it came to life way back in 1995.
Through the years, the platform gained enormous marketing and sales power after attracting millions of visitors each month.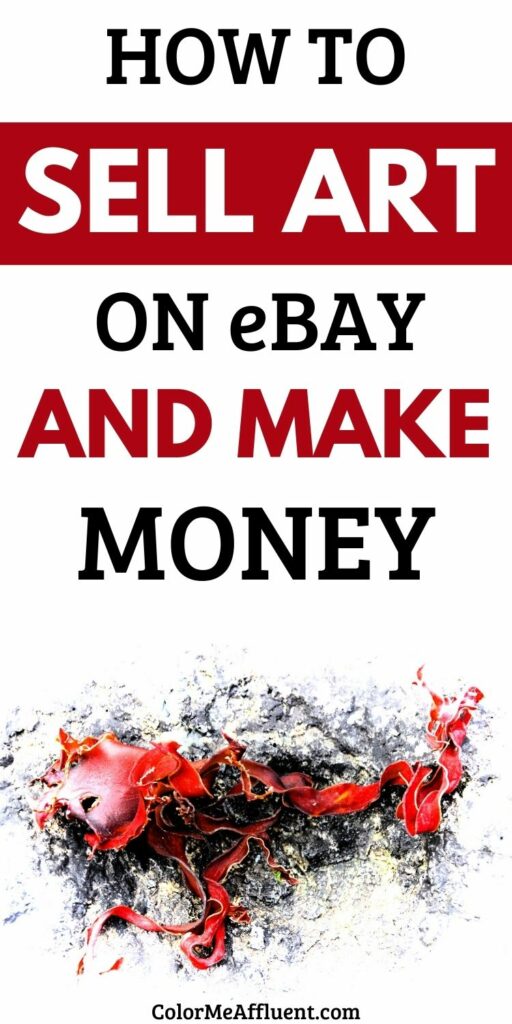 However, we also have Etsy these days. If you research selling art on eBay vs. Etsy, you'll understand what I'm talking about:
On many levels, selling art on Etsy is easier than doing it on eBay.
Be that as it may, reading this article to its end will prove to you that listing your artwork on eBay is worth the shot:
At the very least, knowing how to sell art on eBay will diversify your art revenue streams!
If you're still unsure about how to start selling art online, check this step-by-step guide.
How Much Does It Cost To Sell Art On eBay?
Basically, eBay will charge you a fee for every painting you manage to sell.
That fact shouldn't come as a surprise, though:
The platform will showcase your work to millions of potential buyers. Taking advantage of such exposure comes at a certain cost.
With that said, how much should you expect to pay to eBay once your painting has a new owner?
In case someone purchases your art for over $2,000, the platform will charge you a one-time fee of $125.
For listings that go for over $2,500, you should prepare to pay a commission of 35%.
How To Sell Art On eBay And Make Money
Now, it's time to walk you through the process of selling paintings on eBay.
Here are the steps you need to take to start offering your art on the platform:
1) Create An eBay Account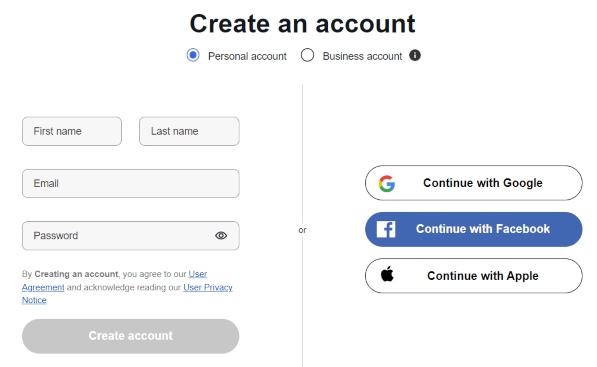 It goes without saying that you can't do anything on eBay unless you have an account first.
Maybe you have a personal account already?
Great, feel free to keep using it, but you'll need a brand new one for the specific purpose of selling art.
Starting a new eBay account from scratch is necessary because it will make you look like a legitimate art seller.
People visiting the platform to purchase paintings prefer to go after original art – they see it as an investment worth making.
Having an account that deals with solely selling art will allow them to see you as a serious player.
So, go to eBay, click on Create A Seller account, and follow the instructions to complete the process.
2) Connect A PayPal Account
I doubt that any of you is not familiar with PayPal – a highly popular online payment system that works in most countries.
Assuming that you don't have a PayPal account yet, sign up for a personal one:
There is no need to have a business account to sell art on eBay, so a personal account will do just fine.
As soon as you set it up, you can add a bank account or a credit card.
No matter which option you'll go for, you have to verify it to be eligible to sell artwork on eBay.
Once you take care of the certification process, connect your eBay account with your PayPal account.
Doing so is simple:
Click the My eBay link (you'll find it at the top of the page)
Next, click the Account Tab
Choose PayPal Account from the drop-down
Press the button for Link My PayPal Account
eBay will ask you to log into your PayPal account so you can finish the process.
As you can guess, not all your earnings from selling artwork on the platform will go directly into your PayPal account.
3) Take Stunning Pictures Of Your Artwork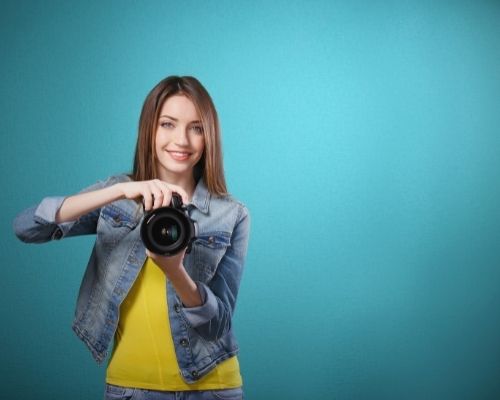 Art is subjective – it means different things to different people.
Be that as it may, an artwork is a visual medium. Therefore, you have to make sure that the photographs you'll upload on eBay are your very best work.
Blurry and out-of-focus pictures will not do you any favors as a seller – I shouldn't even have to mention that!
Nowadays, most smartphones come with the type of camera that will do the trick. But that's not enough:
Do some research and learn as much as you can about proper lighting and background.
Developing such skills early on will go a long way for your career as an art seller.
4) Price Your Artwork Accordingly
Heads up – this is one of the most essential paragraphs in this article – you better pay attention if you want to learn how to sell art on eBay!
Coming up with a price that doesn't undervalue your artwork and makes it sellable on the market is not the easiest thing to achieve.
That's why devoting a considerable amount of time to research is a vital part of the working process.
Now, how should you go about such research to make sure that it will be productive?
Well, take a good look at listings that are already sold.
Going through purchased paintings will give you a lot of pointers about the connection between price and art size, subject, and medium.
For example, you can ask for more money if you plan to list an oil painting for sale.
5) Add Description To Your Art Listing
Alright, you're almost ready to start selling!
Before you move on to listing a second painting, you need to add a description to the first one.
Here is the deal:
More often than not, a well-thought description can determine whether you'll sell that painting or not.
Stories sell, so don't limit your creativity or inspiration when adding yours to every piece of art you offer:
You never know how the story behind each painting will affect the people looking at it, so make it as personal as you can.
Tips And Ideas To Make More Money Selling Art On eBay
Quite frankly, the idea behind this article is not just to show you how to sell art on eBay but to help you earn more while doing it as well.
To achieve that, I'll provide you with a few strategies you can use to increase your chances of making a sale.
Here they are:
Build Your About Me Page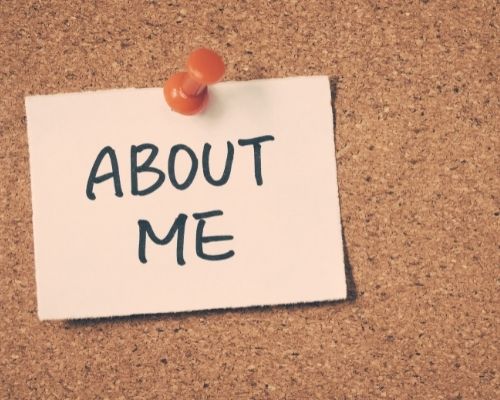 Right now, eBay allows all sellers to boost their presence on the platform through a free feature – the About Me page.
Taking advantage of this opportunity is a must:
Share who you are, how you go about running your art business, and why you're selling artwork in the first place.
Let the buyers establish a connection with you not just as a business owner but as an artist as well.
Don't underestimate the power of the About Me page – it's a marketing tool that exists to help you grow as an eBay seller.
Related: 10 Tips To Sell More Art
Don't Overprice Your Artwork
While you're on eBay to sell art, that doesn't mean you should go overboard with your prices.
I'm not saying that you should offer your paintings for less than what they are worth.
No, I'm saying that it's important to be fair when coming up with prices for your art.
Most people buying art on the platform are not doing it for the first time:
They know the approximate cost of a painting when they see it.
So, don't lose potential customers by bumping your prices too much.
Offer Free Shipping
These days, most selling platforms favor businesses that offer free shipping.
For example, Etsy will boost your reach on their platform if you don't charge shipping costs to your customers.
If you decide to offer free shipping on eBay as well, that will work in your favor:
People love free stuff. And allowing customers to receive your artwork without paying for its shipping is a great way to increase your sales.
Calculate the shipping cost into the final price of your paintings, and then you can easily start offering free shipping.
Add Keywords To Your Descriptions
By all means, the search feature of eBay is there for a reason:
It helps collectors search for art by subject, medium, style, size, color, etc.
With that said, you should carefully research what keywords will have the biggest impact on your descriptions:
Help buyers discover your art, and you'll sell more of it too.
How To Sell Art On eBay – Frequently Asked Questions
Selling Art On eBay Vs. Etsy – Which One Is Better?
Etsy is a niche online marketplace that will serve you better if you're in the business of selling handmade or vintage products.
At the same time, eBay will work for you no matter what kind of art you're planning to sell:
The platform has an enormous reach and an incredible diversity of inventory.
Does Art Sell Well On eBay?
Currently, many people still believe that selling art on eBay is not a great idea.
I respectfully disagree:
Following the best tips and strategies when you're on the platform will help you sell your art.
As long as you price your art correctly, add keywords to your description, and take beautiful photos of your work, there is no reason why you wouldn't be able to sell art on eBay.
What Kind Of Art Sells The Most On eBay?
All kinds of art are selling well on eBay.
Still, landscape paintings seem to be converting in sales more than any other artwork at the moment.
Is Selling Art On eBay For Thousands Possible?
Yes, you can sell your artwork on eBay for thousands of dollars.
With over 800 million monthly visitors on eBay, you never know when your painting will catch the eye of a collector.
Also, the most expensive paintings sold on eBay have made their owners way more than a thousand dollars.
Do You Need A License To Sell Art On eBay?
eBay will let you sell any kind of original artwork or artwork you're authorized to resell.
However, the platform has a few restrictions you need to keep in mind.
If you want to sell reproductions (exact replica paintings and posters) you can do so if you don't violate copyright, trademark, or other laws.
Time To Wrap
OK, we'll have to cut this article short here!
I'll keep updating it with more info every time there is something new on the topic of how to sell art on eBay.
Until then, don't hesitate to share your thoughts on the subject in the comments section below.
Ask me anything you want, and I'll get you answers as soon as I can.
More From Color Me Affluent You May Like: