10 Selling Art Online Tips: Easy Tricks To Reach New Clients
Quite frankly, there are tons of selling art online tips and tricks you can benefit from.
Which ones are you supposed to be following?
Well, I can't answer that for you. You'll have to figure it out on your own!
What I can do, though, is share my personal blueprint for selling art online.
Today, I have a lot to tell you on the topic of strategies to market your art online:
Selling art online for beginners – valuable tips and ideas.
Can you sell art online free?
How to sell paintings to galleries?
Should you sell art on products?
This post may contain affiliate links. Read my affiliate disclaimer when you have a second.
The Best Way To Sell Art Online
First and foremost, there is no such thing as the best way to sell art online.
Furthermore, there isn't just one answer capable of covering that question.
Why could that be?
Think about it for a minute:
Are two art businesses online exactly the same? Do they operate in an identical manner?
Of course not!
Therefore, nobody can show you the best way to sell art online 2022 and beyond.
After all, that depends on so many factors!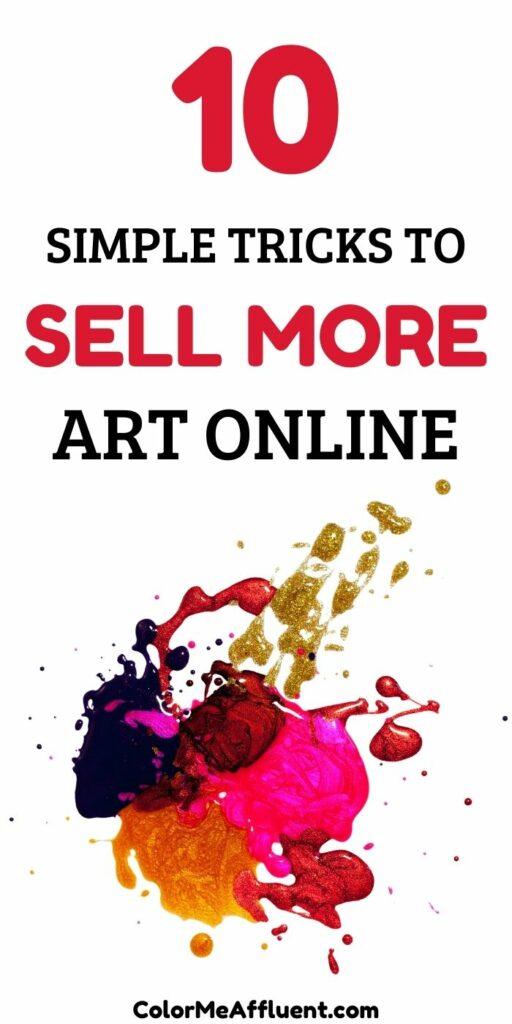 For instance, does the person behind the business has enormous art experience and expertise? How long is that person in the game of selling art on the web?
Also, what marketing strategies an art business owner relies on to sell their work from home?
Ask ten artists selling paintings online, and you'll get ten different answers.
To sum up, you'll have to use your own judgment when you decide which selling art online tips and ideas to follow.
More importantly, you have to make the time for research:
That's the only way to learn the craft of selling art online if you're just starting.
Related: How To Sell Art Online (Guide For Beginners)
My Top Selling Art Online Tips And Tricks
Before I go any further, a quick clarification is in order:
By all means, I don't consider myself the biggest expert on selling artworks on the web.
But I do know how to sell art online and make money.
As you can see on my Instagram Profile, I'm already enjoying sales!
Sure, there are just a few at this point.
However, I managed to learn quite a lot in the process.
And now, so will you:
1) Choose A Niche
OK, do I even have to mention how important working in a specific art niche is?
Assuming that many newbies are reading this article, I most probably do.
Here is the deal:
If you want to sell art online and earn a full-time income from your art, you'll need to pick a niche.
While your artistic abilities may go above and beyond, you should narrow them down to just one niche.
Why does choosing an art niche matter?
It will allow your unique style as an artist to shine – and that will help you stand out from the competition.
Having a niche will help you become an expert in it faster.
Working in just one art niche will assist you with finding the right buyers (your target audience).
2) Understand The Business Side Of Your New Art Venture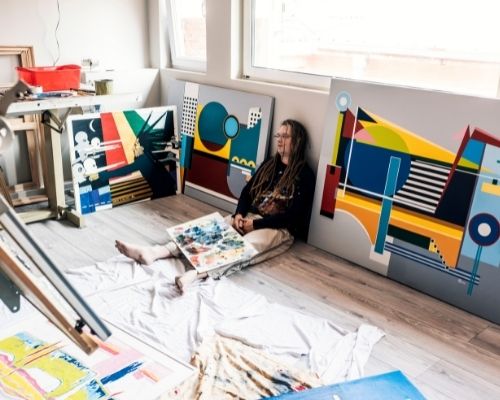 Let's get something straight from the get-go:
Creating art for yourself and creating art for customers are two different things.
When you paint for yourself, you can pretty much do whatever your art soul is prompting you to do.
But when you start an artwork for the sole purpose of selling it, you'll have to approach it in a different manner.
That artwork will eventually have a price on it. So, what are you planning to do about that?
Will you try to sell it to family and friends? Maybe you're ready to find out how to sell your art locally?
Or your main goal is to offer your painting to the whole world?
Great, then where will you list that work for sale? Should you upload it on your own website, e-commerce store, or a well-known art gallery?
These are all valid questions. And you can't start building a successful art business before you know their answers.
3) Decide How To Sell Art Online And Make Money
Without a doubt, that's one of the most important selling art online tips in this post.
Making a decision about the nature of your art business is not something you should do lightly.
Subsequently, you can't afford to rush it!
To avoid confusing you with tons of business talk, allow me to simplify the matter:
Once you decide to sell art online for a living, you'll need to find the right marketplace for your art.
Down the line, you can sell artworks to multiple marketplaces. Right now, though, you have to start from somewhere.
These are the most popular options:
Selling art online best sites
Online art galleries
Your own website/e-commerce store
Social Media channels
Print-on-demand platforms
4) Launch A Website
No matter which marketplace you'll choose to sell your art on, you'll need to start a website as well.
Why do you have to launch an art website?
Firstly, having a website will provide you with your own platform. Developing that platform further will expand your reach a big time. Also, it will give you all the creative control you'll need as a business owner.
Secondly, owning a website will help you find a bigger audience. Writing and publishing articles that will rank on Google will place your art in front of thousands of potential buyers.
Lastly, you can make money from your art in other ways. Promoting your own art course, coaching, or a similar service is possible when you have a blog.
These days, you can launch a website for a few dollars with BigScoots as your hosting provider. The company has outstanding customer support and its services are top-notch.
5) Use Social Media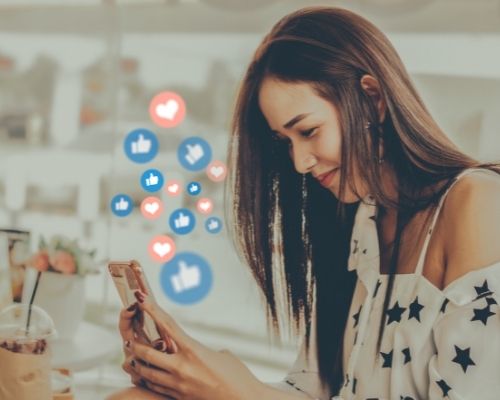 Say what you will about Social Media:
You may not be its biggest fan in your day-to-day life. But you shouldn't underestimate its power when it comes to your business.
It's really simple, actually:
Starting an art business online is not enough. You'll have to promote it heavily as well.
And what better way to do that than creating Social Media accounts for your artworks?
If you ask me, begin your quest to Social Media domination with Instagram and Pinterest.
Both are visual search engines that will do wonders for your business once you learn to use them efficiently.
6) Always Add Keywords To Your Artwork Descriptions
Until we're still on the subject of search engines, let me share with you one of my favorite selling art online tips:
Writing effective descriptions while uploading artwork online will go a long way.
To clarify, by effective descriptions I mean descriptions that are rich in relevant keywords.
Whether you're writing posts to rank on Google or pinning pins on Pinterest, don't forget to do the necessary keyword research first.
Adding keywords to the descriptions of your paintings will help potential clients find them more easily.
Do I have to mention that this will help you sell more pieces of art?
7) Submit Your Art To Online Galleries
Earlier, I mentioned that joining art galleries to help you sell your work is one of the essential selling art online tips.
Well, it is:
By all means, not taking advantage of everything an online gallery can do for your art business would be a dumb move on your part.
Most of these galleries have already-established audiences. Meaning, their platforms get thousands of views every month.
Regardless of how well your business is doing, working with an online art gallery will boost it further.
Find out how to sell paintings to galleries here.
8) Consider Print-On-Demand Products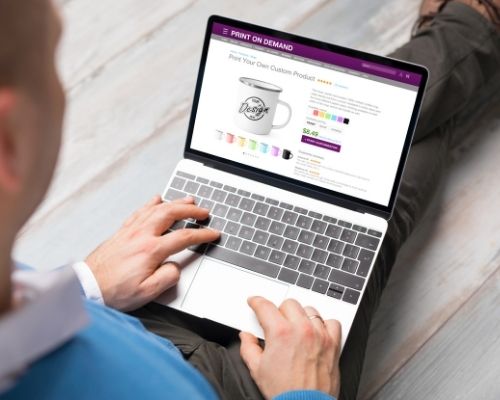 Now, you may want to keep your talent strictly on a painting – there is nothing wrong with that.
However, that will reduce your chances of making a sale – let's be clear about it.
Also, why should you sell your art in just one form when you could be selling it in many?
For example, you can sell one painting multiple times if you place it on different products.
That's where print-on-demand platforms come in:
Websites like Etsy and RedBubble will allow you to recreate your artwork on tons of products. They'll even sell it for you!
9) Price Your Art Accordingly
Honestly, being smart about your prices is one of the most valuable selling art online tips I can give you.
As an artist, staying true to your vision is probably the most important thing.
But as a business owner, knowing your worth is what matters the most.
Don't give away your art at a price that doesn't justify its worth.
Sure, it may seem tempting to offer your artwork cheaper than anyone else. You may think that such a strategy will help you sell it more easily.
Be that as it may, you're the one who decides how much your painting should cost.
So, don't sell yourself short – you won't be doing your business any favors!
10) Give It Time
Alright, this last piece of advice is redundant when you think about it.
Starting an art business may take you less than an hour.
Turning that business into a profitable one will definitely take you much longer.
If you're serious about earning a full-time income by selling art online, you should be in it for the long haul.
Therefore, giving up when you don't see instant results must not be an option!
Selling Art Online Tips – Frequently Asked Questions
How Can I Sell My Art Successfully? – The best way to sell art online successfully is by doing it on your own platform. You'll need to launch a website or start an e-commerce store. Also, you can use platforms like Etsy or Facebook Groups that assist artists with selling their work.
Is Selling Art Online Profitable? – Yes, it is – if you put enough time and effort to make your art business work. Many artists earn a full-time income from their art, some make even more than that!
How Do Beginner Artists Make Money? – Currently, there are many ways to make money by selling art online. For example, you can start by offering your art on Instagram or joining the best online art galleries.
What Kind Of Art Makes The Most Money? – According to the statistics, landscapes and abstract painting are selling at a higher price. But you can earn well from selling any kind of art – as long as you learn the business side of this online career.
Time To Wrap
Quite frankly, I don't really want to wrap this article up:
There is always something else we can say on the topic of selling art online tips.
Here we are, though:
Sooner or later, everything must come to its end.
It is for now – I'll provide you with more tips and ideas in the future.
Before that happens, I'm giving the word to you:
What are your personal tips for selling art online?
Do you have a personal experience or a story you would like to share?
Feel free to do that in the comments section below!