How To Sell Art On Instagram: Marketing Tips For Artists
Do you want to know how to sell art on Instagram?
Researching such an opportunity is a smart move on your part. It will lead you on a path where selling your artwork online will become easier.
After all, Instagram is the leader of existing visual search engines online.
Not taking advantage of it to advance your career as an artist will damage the growth potential of your business.
Lots and lots of people spend time on Instagram. According to Statista, the number of active Instagram users is over 1 billion currently.
Can you imagine how many eyeballs your paintings might get once you showcase them on the platform?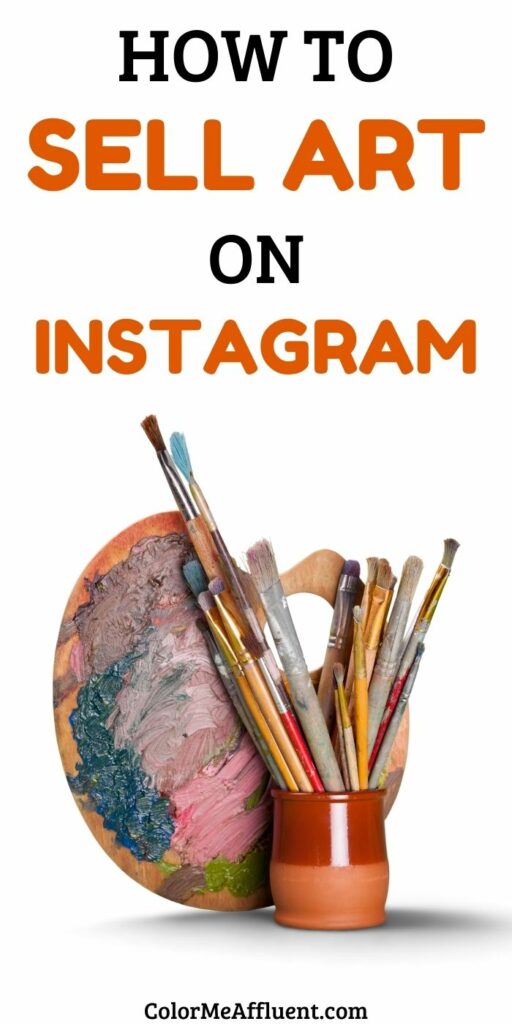 Today, I'll cover everything you need to know about selling art on Instagram:
How to start selling artworks on Instagram?
What is the best way to use Instagram for artists (do's and don'ts)?
Are hashtags for selling art on Instagram helpful?
Make no mistake – this article will show you all the nitty-gritty details about scoring art sales on Instagram!
Related Read:
How To Sell Art On Instagram – Step-By-Step Guide
Alright, here is the deal:
Assuming that most of you are not selling art on the platform yet, it goes without saying that we should start from the basics.
Before we start with tips and tricks to boost your sales, we should cover the process from beginning to end.
Let's do that, show we?
Here is how you can begin selling art on Instagram:
1) Set Up An Instagram Creator Account
The first step toward selling artwork on Instagram is setting up a Creator account.
Of course, if you already have one, feel free to proceed to step number two.
But if you don't, you need to understand that owning a creator account on the platform is crucial for the success of your business.
Uploading art through a business account will allow you to market it better to potential clients.
After all, Instagram itself will tell you that public figures, content creators, influencers, and artists should have a creator account.
Such an account will give you access to the Analytics feature and will let you create promotions and branded content.
If you have a personal Instagram profile, you can switch it to a business one through the settings.
2) Brand Your Instagram Business Profile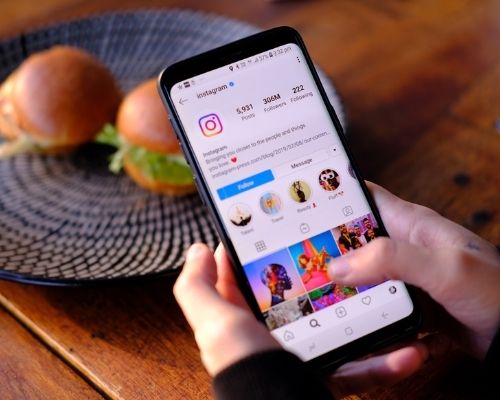 What does branding your creator account mean?
Well, it means setting it up in a way that allows your business and art to stand out.
You can only make a first impression once, so it better be a good one!
How do you brand your artist page?
There are a few things you can do to let your Instagram creator account spread the vibe of your business.
For example, pick a user name that represents your art. Next, upload a profile photo that does the same.
More importantly, write a bio that instantly lets your followers know what they can expect from your art.
Basically, the idea here is to set up a business account that represents your unique artistic style and identity.
3) Link To A Website/Online Store Where People Can Buy Your Art
Quite frankly, if you want to know how to sell art on Instagram, you should take a step back and look at the big picture first:
Once you do that, you'll realize a simple fact:
To have a better chance to sell artwork on Instagram, you should create a website or an online store first.
Owning a blog or online shop will provide you with all the creative and marketing control you may need as a business owner.
In my opinion, you should go with Shopify as an e-commerce platform if you choose to build an online store.
However, if you want to launch a blog, get BigScoots as your hosting provider and go from there.
Both options will do the trick.
No matter which one of them you'll pick, don't forget to add the link in your Instagram bio.
How To Sell Art On Instagram Without A Website
Some of you may wonder – can I sell art on Instagram without a website?
Generally speaking, the short answer to that question is yes.
One way to do that is by creating a store on platforms like Etsy.
While setting up an Etsy shop will provide your art with tons of exposure, it's not the best business move in the long run:
Etsy will always have the final word.
Meaning, the platform will have the ultimate control over your art store.
So, if something goes wrong and Etsy decides to close your business, there is little you'll be able to do!
4) Build Your Following On Instagram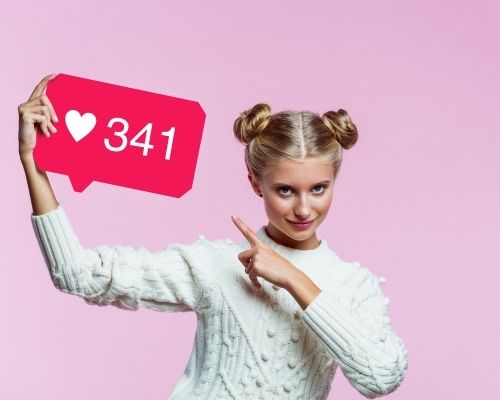 Let's go back to the topic of how to sell art on Instagram, shall we?
Moving further on the list of steps, the next one you must take is getting your art noticed on the platform.
I know that's easier said than done. Still, there are a few strategies you can use to build a following faster:
Post Every Day – Again, that may prove challenging, especially if you don't have many artworks yet. However, being consistent on the platform is non-negotiable. Eventually, Instagram's algorithm will reward your effort.
Use Tags – Adding tags has one purpose – getting more exposure to your art. With that said, a bigger exposure will translate into a larger following.
Engage With Users In The Comments Section – No one appreciates leaving a comment that gets no answer. Always reply to the comments your art receives. That will increase your brand awareness and improve your stand with the algorithm.
Tips And Ideas To Grow Your Instagram Creator Account
Until we're still on the subject of increasing your following and exposure, let me provide you with a couple of tricks that always work:
Add Instagram Alt Text To Your Images
To clarify, an Instagram alt text is a text that describes your images.
Are you wondering why should you care to add it to your images?
By all means, not forgetting the alt tags will help your artwork to gain a better ranking on Google.
Just because you're on Instagram, that doesn't mean that you can't implement a smart SEO strategy at the same time, does it?
Use The Best Hashtags For Selling Art On Instagram
Unless this is the first day you're on Instagram, I'm pretty sure you're aware of the existence of hashtags.
No matter what, don't underestimate the marketing power of the hashtags:
They'll help users discover and fall in love with your art more easily.
Have a look at some of the best hashtags for artists on Instagram:
#arts
#instaart
#arte
#artists
#illustrationart
#illustrationartist
#illustrationsketch
#artistonista
#artlover
Feel free to stalk the accounts of other artists and take notes of the hashtags they're using.
Give Out Freebies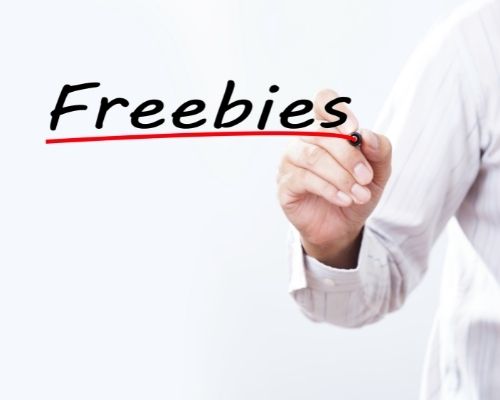 Another clever way to increase your following on Instagram is by giving away freebies.
Who doesn't love free stuff?
Depending on the art niche you're working within, you can come up with ideas for free content to share with your audience.
A piece of advice:
Don't forget to add your Instagram username on every freebie you get out there.
This way, new potential followers would be able to discover your profile.
5) Promote And Sell Your Art On Instagram
Naturally, the last stage of learning how to sell art on Instagram is the promotional part.
Without promotion, there would be no sales – that much should be clear by now.
But that's the beauty of Instagram:
Due to the nature of this visual search engine, the platform will allow you to promote and sell your artwork at the same time.
As you can imagine, it's time for me to share my personal tips and tricks for selling art on Instagram:
Provide Social Proof To Your Potential Buyers
By all means, people rarely purchase products or services from brands they don't trust.
It goes without saying that the same rule applies to artists as well.
With that said, what can you do to gain the trust of your Instagram viewers?
One thing that always works with no-fail is adding positive reviews and feedback to your business.
And how can you achieve that?
Well, you can ask your fans to in their reviews of your art products.
Think of it this way:
Everything that shows the customer's joy after receiving your art will increase your brand awareness and boost your sales.
Make The Best Of Instagram Stories, IGTV, And Reels
Do I even have to stress how essential is the video content for the success of your art business?
Hopefully, I don't:
At this point, you should know how large of an impact a video can have on your art sales.
Here are a couple of ways to make video content work to your business's advantage:
Create Reels – During those reels, allow your followers to steal a peek of a work in progress or upcoming art project.
Promote Special Offers – Or discounts – both will do nicely!
Go Live – What better way to announce the birth of your newest painting or another piece of art?
Use Instagram Shopping And Advertising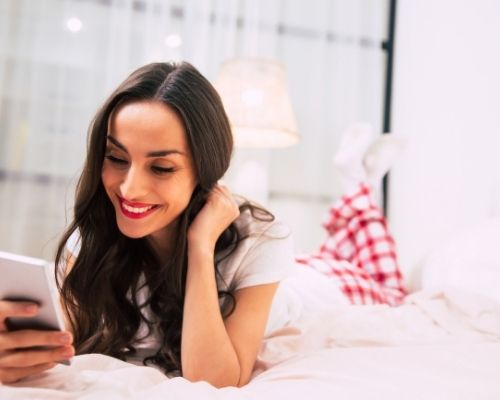 Let me ask those of you who still have no clear idea about how to sell art on Instagram?
Can you imagine a more efficient way to increase your art sales than taking advantage of Instagram ads?
While there are other ways to achieve the same goal, implementing Instagram ads in your selling strategy is not something you should underestimate.
After all, ads are capable of reaching a larger and niche-specific audience.
That's how they operate! At least, that's what they'll do if you create them properly.
Now, you can choose from plenty of Instagram advertisement options:
Stories Ads
Photo Ads
Videos Ads
Carousel Ads
Slideshow Ads
Ads In Explore
Basically, pick the type of ad that will best serve the needs of your business.
If you can afford it, feel free to try more than one option.
How To Sell Art On Instagram – Frequently Asked Questions
How Do You Sell Art On Instagram 2022?
To start selling art on Instagram in 2022, you have to post high-quality images, brand your artist account, use hashtags, write engaging captions, and increase your following.
Once you do that, you'll be able to promote and sell your artwork efficiently on Instagram.
How Do I Promote My Art On Instagram?
Currently, there are many promotional strategies that will produce results on Instagram.
For example, you can use the reels feature, post stories, collaborate with other influencers in your niche and invest in Instagram ads.
How Do Artists Get Noticed On Instagram?
Well, artists may boost their reach in a variety of ways.
The most popular ones are by engaging with followers/other artists, building an outstanding profile, and trying to get featured by Instagram Art Sharing Pages.
How Can I Sell My Art On Instagram Without A Website?
Selling art on Instagram is an option even if you don't own a blog or a site.
Basically, you need to add an online order form to your Instagram bio to begin selling artwork without a website.
When Should I Post My Art On Instagram?
Generally speaking, you can post images of your artwork on Instagram at any time you like.
Still, the best time to post is when the majority of users are active on the platform. That would be at lunchtime (11:00 A.M. to 1:00 P.M.) and evenings (7:00 to 9:00 P.M.).
Time To Wrap
OK, this is all I have for you today – the topic of how to sell art on Instagram is not over, though.
There is always something I can add to the subject.
Instagram is changing and evolving constantly.
So, rest assured that I'll keep updating this article with more up-to-date information in the near future.
Until then, the word is yours:
What are your tips and tricks about selling artwork on Instagram?
Is there anything you would like to share about it?
Please, do so in the comments section below, and I'll get back to you ASAP!