How To Sell Art On Facebook: Step-By-Step Guide For Artists
There is a lot of logic behind your thought if you're wondering how to sell art on Facebook.
Assuming that you're a freelance artist looking for more ways to market your work, researching Facebook is a smart idea.
According to Statista, Facebook has around 2.91 billion monthly active users.
By all means, that's too big of a pool of potential clients. Likewise, ignoring it will not do you any favors as an emerging artist.
Today, I'll cover everything there is to know about selling art on Facebook:
Why should you sell art on Facebook?
Is selling your artwork on Facebook worth it?
How to sell your art for a lot of money on Facebook?
Selling Art On Social Media (Facebook)
Let's be honest about it:
Many people believe that Facebook's glory days are long gone.
With the rise in popularity of platforms like Tik Tok, Facebook may seem like a blast from the past.
But is it really?
Quick research will tell you that Facebook is actually growing.
Despite all odds, Mark Zuckerberg's creation is here to stay.
You may wonder – what leads me to such a conclusion?
Well, the data does. You don't have to take my word for it – see it yourself: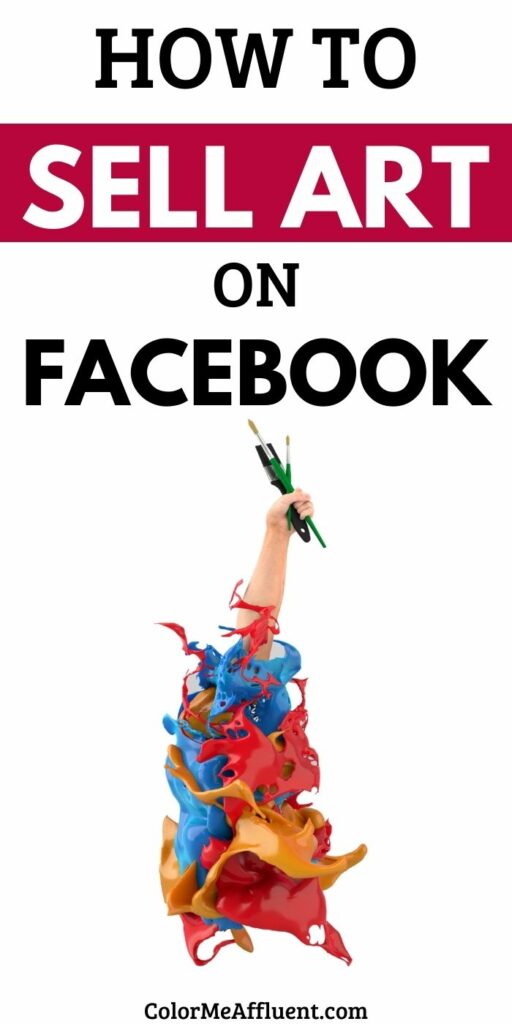 More than half of the population of North America is on Facebook.
Nearly 300 million photos find their way on Facebook daily.
Almost 3 billion likes happen on the platform every 24 hours.
Facebook users share around 100 billion connections altogether.
Now, such numbers should be enough to look at Facebook with fresh new eyes.
In other words, finding out how to sell art on Facebook is more than worth the effort.
If you want to learn more about selling art on Social Media, I suggest taking the time to read this article about selling art on Instagram.
What Challenges You'll Face With The Facebook Marketplace?
Quite frankly, the first question that must be popping into your mind right now is why Facebook is an underrated place for selling artwork.
After all, if the stats are so undeniable, shouldn't more artists try to take advantage of them?
There is no lack of potential buyers – no argument about that!
Then, the natural conclusion would be that painters should be staying up all night to make the best of the opportunities the Facebook marketplace provides.
Unfortunately, that's not exactly the situation here, and you can understand why if you think about it:
By all means, beginner artists simply don't know how to gain the necessary exposure, build a loyal client base, and promote their work on Facebook.
Similar to other Social Networks, Facebook requires a solid business plan before it allows you to generate tons of art sales.
While doing the work to satisfy Facebook might seem intimidating at first, the truth is that it doesn't have to be.
Especially considering that I'm ready to break down your working process into small pieces you'll have no problem managing:
How To Sell Art On Facebook – Step-By-Step Guide For Beginners
Alright, let's cut to the chase, shall we?
We have a lot to cover, so how about we don't waste any more time and go straight to the business?
Here are the steps you need to take to start selling artwork on Facebook:
1) Create A Professional Facebook Artist Page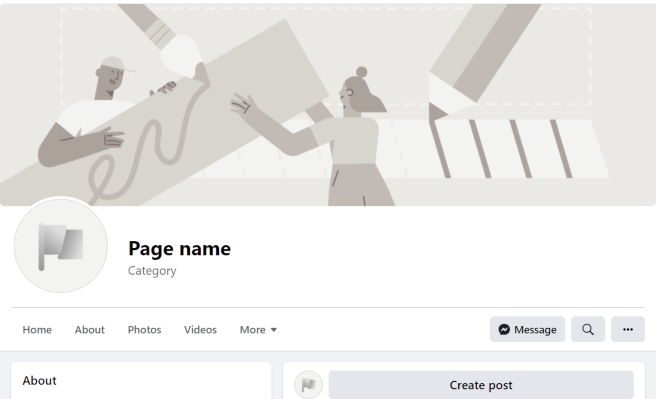 First and foremost, you can't begin to sell anything on Facebook before you have a professional presence on it.
Make no mistake – your personal Facebook profile will not work well if your goal is to make money on the platform.
As a professional artist who hopes to monetize their talent, the only way to go is to set up a business or brand Facebook page.
Doing so will signal Facebook to treat you differently – as a business and not as an individual.
Related Content:
Reasons Why You Have To Set Up An Artist Facebook Page
To sum up, an artist's Facebook account will:
Give you credibility as a professional in your field – every Facebook user who lands on your Brand Page will see you as a business owner. Subsequently, your artwork will have a better chance for more likes, follows, and eventually, buyers.
Help you increase brand awareness – the whole point behind marketing your art is to earn an online income. While you can't promote products through a personal profile, you'll have no issues doing so from a Business Facebook Page.
Let customers know where they can always find you – feel free to think of your Artist Page as your virtual office on Facebook. Having one will allow anyone with interest in your artwork to quickly find you with a few simple clicks.
How To Create An Artist Facebook Page
Creating a Business Art Page is quite simple:
Go to the blue navigation bar at the top of the screen, then click to view the list of options.
Click on Create Page.
Find the Business or Brand tab and click Get Started.
Choose a name and category for your Brand Page.
A piece of advice:
Don't waste too much time on a brainstorming process and coming up with a name for your artist profile.
If you can't think of anything, you can always go with your name and add words such as Studio, Design, Art, or Artwork in the end.
Adding relevant keywords is important if you truly want to learn how to sell art on Facebook:
As you know, Facebook provides its users with a search bar. So, you should think of it as somewhat of a search engine and not just a Social Media platform.
Next, you'll need to upload a profile image for your Business Page. Considering yours is the face behind the brand, I suggest uploading a personal photo of yours.
Later on, you should take care of the cover image. Since you're trying to sell art on Facebook, let that cover image showcase your artwork.
In the end, post a short description of your business and provide links to your website or online store where clients will be able to purchase your art.
2) Get Followers On Your Artist Facebook Page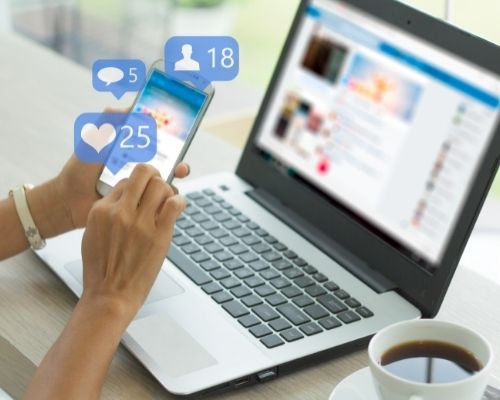 The second step of the process that explains how to sell art on Facebook is getting people to follow your page.
It goes without saying that your Business Facebook Page will be useless unless it gains thousands of loyal followers.
With that said, how do you make people follow your brand on Facebook?
There are a few things you can do to attract Facebook followers:
Always Post Great Content: People won't follow you if they don't like what they see on your page. To make sure that you'll keep their attention, make the effort to post engaging and enticing content.
Answer Comments: Adding relevant hashtags will help users find your posts, but that's not enough to grow your page. Take the time to build relationships with your fans. Answering the comments you'll receive is the easiest way to do that.
Don't Forget To Tag: In my opinion, tagging fellow artists work well to increase engagement on Facebook. You never know who will take an interest in your page and help it grow in what will seem like an effortless way!
3) Promote Your Artwork On Facebook
Promoting your art takes a central role in the process of selling on every Social Media, and Facebook is not an exception.
Currently, there are a couple of types of art promotions that will help you sell your artwork on the platform:
New Art Promotions: A new art promotion is all about showcasing your latest piece of art. Everyone likes a fresh, brand new product. Getting Facebook users excited about your new listing will move you one step closer to making an art sale.
Progress Promotions: Allowing people to steal a glimpse of how your project is shaping up will go a long way on Facebook. Once they see the final product, the impact of your hard work will be greater on your Facebook followers.
How To Sell Art On Facebook – Tips And Tricks To Increase Your Art Sales
OK, let me give you a few pieces of advice that will help you sell more art on Facebook.
In my experience, the following strategies will allow you to utilize the marketing power of Facebook in a significant way:
Often Post Galleries Of Optimized Images: You should never post an art image without a title, dimensions, description, and price. Being transparent with your Facebook audience will gain its trust and deliver more sales. Make sure the product images you post are always of the highest quality.
Do Regular Promotions: I'm not saying that constantly lowering your prices is the best way to do business on Facebook. You can increase your prices and include an option for a discount later on – this strategy works like magic!
Implement Scarcity Tactics: Creating urgency around an art sale will boost your sales big time. So, take advantage of that and don't shy away from a scarcity trick or two.
Join Facebook Groups For Selling Art: Relevant Facebook Groups can be very useful for emerging artists. Spare some time to browse around and find Facebook Art Selling Groups that will be glad to welcome you.
Offer Free Shipping (When Possible): The cost of shipping is something that troubles a lot of prospective buyers. If offering free shipping is an option you can manage, don't hesitate to do it.
Use PayPal To Receive Payments: Chances are, the majority of your Facebook followers already have PayPal accounts. Making the process of buying your art easy for them will reflect positively on your art sales.
How To Sell Art On Facebook – Frequently Asked Questions
How Do You Post Artwork On Facebook?
Uploading an artwork on Facebook is a simple process. Once you create a Business Art Page, click on Photo at the top of your homepage. Then click Upload Photo and browse to choose an image of artwork from your computer.
How To Sell Paintings For A Living?
Quite frankly, there are different ways you can go about building an art business that will bring you a full-time income from selling paintings.
The most popular and beginner-friendly one is to launch an online store, fill its pages with artwork, drive traffic to your offers, and promote your art on Social Media.
Do People Buy Art On Facebook?
Yes, many Facebook users invest in paintings after discovering them on the platform.
According to statistics, over 40% of Internet users have spent money on art after seeing it on Facebook or Instagram.
Time To Wrap
Alright, this is all I have on this topic for today.
Keep in mind, though:
How to sell art online is a huge subject, and I'll keep expanding it with fresh relevant information in the feature.
Before that happens, maybe you can get on it as well?
Do you care to share your experience with selling artwork on Facebook if you have any?
I'll be glad to read anything you have to say.
Leave your comments in the section below, and I'll get back to you the first chance I get!