How To Sell Art Online: The Ultimate Guide For Beginners
Are you ready to learn how to sell art online?
Chances are, it's about time:
Being the only one to enjoy your art pieces strikes the wrong cord.
It's a bit selfish, to say the least:
Do you have a good enough reason not to allow the world to witness your creative genius?
If the answer is no, then let's get to it:
Today, you'll learn all you need to know about selling art online for beginners:
How to sell art online and make money?
Can you sell art online free?
What are the best places to sell art online?
This post may contain affiliate links. Read my disclaimer when you have a minute.
Why Should You Sell Your Art Online?
Well, let me do my best to answer what seems like an obvious question:
By all means, there are so many factors to prompt you to begin monetizing your art skills.
Here are some of the essential ones:
Firstly, developing a successful art business from home will allow you to escape the routine of a nine-to-five job. It doesn't get any better than that, does it?
Secondly, earning some extra cash in exchange for a painting will boost your monthly income if you want to keep your current full-time employment.
Lastly, selling artworks you're proud of will give you much-needed confidence in your talent.
Whatever your reasons might be, the bottom line is that selling art from home is a valid option right now:
These days, millions of artists worldwide are exploring that option to the best of their abilities.
How about I start showing you how you can do the same?
Should You Sell Your Own Art Or Works Of Other Artists?
Following my desire to help everyone reading this article, let's have a look at the opportunities to earn from art if you're not an artist yourself.
You may wonder – why would people have an interest in selling artwork if they don't create anything themselves?
And now I can answer this question with another one:
Do you have any idea how profitable such an activity is?
To say that it's a lucrative business is an understatement of the truth.
With that said, there are two paths you can start walking on once you decide to learn how to sell art online:
Currently, you can begin making money as a creator or a curator.
Selling Art As A Creator
The impatient artist eager to start earning can relax now – the first paragraph is for you!
As an artist, you'll be creating original works and/or reproductions of original works. There are a variety of options to sell both:
For example, you can offer artwork directly (to potential clients) or indirectly (to an agent, retail partner, or gallery).
Nowadays, selling directly to future customers is easier than ever.
It's a preferable choice because it will allow you to cut the middleman and keep all profits for yourself.
However, choosing door number two has its own advantages as well:
A gallery will show your work to an audience you might not be able to reach otherwise.
Selling Art As A Curator
Here, the selling part looks a bit differently:
You'll be making money as a curator. Meaning, you'll act as a partner to artists.
Many artists have no desire or ability to market their work. So, they have no other choice but to rely on galleries, retail partners, or curators to manage their businesses.
Since a curator is your new line of work, you'll earn a percentage of the selling price by providing your business knowledge and expertise.
Professional curators can keep up to 50% of the selling price of an artwork:
Such a commission helps the job to get more attractive by the minute, don't you agree?
How To Sell Art Online: Should You Sell Original Art Or Reproductions?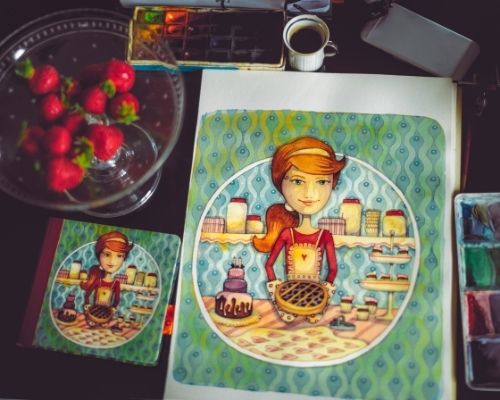 OK, let's start the discussion from the beginning:
Once you decide to begin selling art, you'll need to choose what to offer.
The options are your original art, reproductions, or both of them.
Depending on the kind of art you create, the right decision for different artists will vary.
For instance, if your heart is in painting high-quality art pieces and you plan to sell them at a high price, you should market only original work.
But if your artistic skills can use some improvement, I suggest looking into selling your work as a digital product.
You can sell original art as a digital download or prints. That would mean that you'll be able to sell one artwork multiple times without loss of quality.
What Is A Reproduction Of Art?
Basically, reproducing art on products (mugs, T-shirts, art prints) means placing your work on different items.
Don't underestimate this opportunity:
It will allow you to sell a single piece of artwork indefinitely.
With that said, you can choose to offer your art reproductions as an open or limited edition.
Door number one is an excellent choice on all counts – it puts you in a position to sell the same art over and over again.
On the other hand, door number two will significantly boost your sales because a limited edition creates a sense of urgency in your potential buyers.
How To Sell Art Prints?
Above all, you won't be able to start selling art prints until you get a printer or decide to work with a printing company.
Choosing the option of DIY printing is a smart move when you're just starting:
These days, you can purchase a professional printer at a low cost.
Keep in mind, though:
Printing art reproductions on your own means that you'll have to print, package, and handle the delivery of the product yourself.
Once your business heats up, managing all that on your own might prove challenging.
Now, if you decide to work with a printing company, that will lift a lot of weight off your shoulders.
Since both local and online printing companies can handle massive orders, you don't have to worry about delays.
Print-On-Demand
How about option number three?
Well, I have one, and we all know it as a print-on-demand.
In my opinion, print-on-demand is one of the easiest ways to start selling your art online.
Considering many print-on-demand companies integrate with online stores, selling artwork becomes as simple as possible:
Firstly, you'll upload your designs.
Secondly, when an order arrives, the company will print it and send it to the client.
As you can see, such a working arrangement will benefit you on many fronts.
How To Sell Art Online And Make Money
Alright, it's time to start covering the most essential part of this article.
And that would be the different ways to earn from selling artwork on the web.
Pay attention, because you don't want to miss out on this information:
1) Sell Art Through Your Own e-Commerce Store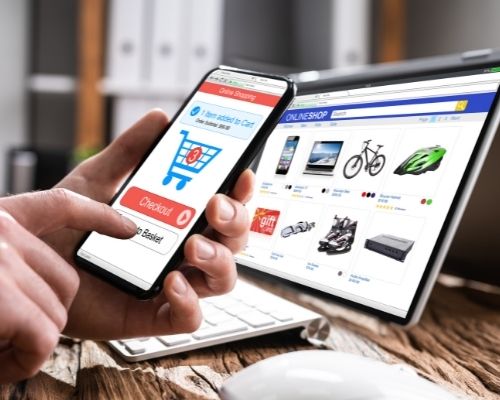 Hands down, the best way to make money selling art is by launching an e-commerce store.
I recommend it because it will put you in a position to have full control over your new business.
As an owner of an online shop, you'll make all the important decisions.
For example, you'll set up your own prices, choose delivery options, and show your creative energy through the design.
However, you'll also be the one to deal with shipping and returns:
After all, managing your store will be solely your responsibility.
Owning an e-commerce store will help you establish your brand as an artist and sell to a worldwide audience.
Shopify is the leader in the industry – you can use the platform to build an online store for free.
Yes, Shopify comes with a 14-day free trial you can take advantage of.
Once the trial is over, you can go for one of the plans – the Basic Plan will let you use everything Shopify has to offer for less than $30 per month.
How To Market Your Art Store
Invest In Paid Ad Campaigns – Facebook offers affordable options to reach a much bigger audience than the one you have at the moment.
Create Contest – Marketing your store will become easier once your presence on Social Media begins to grow. Doing contests is a great way to achieve that.
Offer Exclusive Discounts – Let them be just for followers and loyal fans.
Reach Out To Influencers Working In Your Niche – Building connections is unavoidable if you want Social Media to benefit your business.
Learn How To Do Content Marketing – If you're serious about building a profitable online business, you should learn as much as you can about content marketing.
Understand How To Do SEO (Search Engine Optimization) – Knowing how to do SEO will improve the visibility of your business big time.
Do Offline Marketing – Taking part in art shows or connecting with art galleries will expand your reach.
2) Sell Art Through Online Art Auctions
No matter how you may feel about art auctions, becoming a part of them is an exciting experience, to say the least.
While it's not that easy to get in on some art auctions, it's worth the try:
Sure, there is no guarantee that your work will cut through the red tape.
There is always the possibility that it will, though.
Here is how to proceed once you choose an online art auction:
Complete and pass the application process.
Wait for your artwork to go through valuation and review from an art connoisseur.
See if your piece is a good fit for the theme of the event.
Make sure your art is of a superior design.
Most online art auctions have a reputation they protect a lot. So, if your art helps an action to uplift it, you have a good chance to get in and sell your work.
3) Sell Art To Online Galleries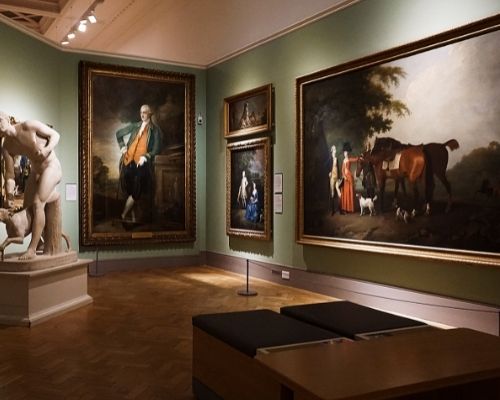 Quite frankly, working with art galleries is one of the most popular ways to sell art online for beginners.
Have a look at some facts that will help you decide whether selling art to an online gallery is the right move for you:
Many online galleries prefer to list only expensive art – Unless you have high-quality artwork that could sell for thousands of dollars, don't offer anything yet.
Your submission will go through a valuation process – An art curator will decide whether your work qualifies for a spot in the gallery or not.
Potential clients can buy your art piece immediately – Online shoppers will visit the website of the gallery. In case some of them want your work, they can purchase it instantly.
Finding an online art gallery that will suit your needs won't happen in a day or two.
Once you discover the right place, the benefits of working with it will be worth the wait, in my opinion.
4) Sell Art To Online Marketplaces
Many artists see the online marketplaces as the best places to sell art online in 2022.
I have to tell you – there is a lot of logic in their opinions.
Firstly, an online marketplace like eBay or Amazon has millions of visitors every month. Since they're well-established brands, people trust them for their purchases.
Secondly, artists from every place in the world can upload their works. Meaning, it doesn't matter where you live – you can offer your art to an online marketplace from anywhere.
Lastly, you can sell both original work and reproduction to an online marketplace. Print-on-demand is huge right now, so why not prepare prints that can find a place on mugs and T-shirts?
How To Sell Painting Online On Amazon
First and foremost, you can sell art on Amazon as an artist or art curator.
But let's keep our focus on selling art on Amazon as a creator:
Having high-quality art pieces makes the work simple.
All you have to do is upload your art piece, and Amazon will pack and deliver it once an order comes in.
With that said, don't waste any time – register to become a seller on Amazon and begin the uploading process today!
5) Sell Art Online On The Displate Marketplace
Surprisingly enough, not many artists seem to be familiar with Displate Marketplace.
Personally, I see that as a loss of a potential income:
Displate Marketplace provides such an easy opportunity for creators to start selling their work.
If you have original pieces ready, upload them to Displate Marketplace and optimize your listing so customers would be able to find them.
Once a client likes your work, that person can buy it in the form of a high-quality metal art print.
Take your time researching this opportunity – the commissions are some of the highest you can earn by selling art online!
6) Other Online Marketplaces To Sell Your Art
Etsy – Despite popular opinion, Etsy is not a marketplace for homemade crafts only. No, you can open an Etsy shop and sell art (original paintings, prints, digital downloads).
eBay – That is not the most popular option on this list but it's still worth the look.
RedBubble – Redbubble makes the process of selling art as easy as it can be. Just upload your work, and the platform will take care of the rest!
How To Sell Art Online On Social Media
By all means, we can't talk about selling art online without acknowledging the possibility of using Social Media.
Make no mistake – earning thousands of dollars from selling artwork every month requires a lot of effort.
If you want to sell a lot, you have to promote a lot!
Here comes the good news:
Nowadays, you can promote anything you want – as much as you want – on Social Media for free.
Even more, Social Media channels will let you promote artwork to a target audience and attract the right people.
I won't be exaggerating when I tell you that billions of people spend a lot of time on Social Media every day.
A big part of that traffic happens to be art collectors and individuals who have eyes for fine art.
You would be crazy not to take advantage of that, isn't that right?
How To Sell Artwork On Facebook
Set Up A Professional Artist Page – Make that page as visually appealing and engaging as possible.
Work Hard To Build An Audience – That's gonna take some time, but there is no way around it.
Post Consistently – You're advancing a business, so consistency is essential if you want to keep growing it.
Market Your Work – Offering free shipping and other incentives will help you do that effectively.
How To Sell Art On Instagram
Create A Business Profile – Don't convert a personal Instagram page into a business one. Instead, start clean and sign up for a business profile. This way, you'll be able to post a link to your website or online store in the bio.
Upload High-Quality Images – Instagram is a visual search engine, so posting the best art pieces you have is a must.
Build A Following – Again, that will take some time, but a large following will allow you to monetize your Instagram profile on its own (sponsored posts).
Connect With Influencers – Social Media is not a place to do everything alone. No, discover who the biggest names in your niche are, and do your best to create connections.
Use Hashtags – Everyone knows that hashtags will help other users discover your posts more easily, so always add some when you post.
Do Stories And Reels – Reels are the hottest thing on Instagram now. Likewise, don't hesitate to use them to advance your brand.
How To Set Prices For Your Art?
Basically, you're here to learn how to sell art online and make money.
Setting the right prices for your artwork has a lot to do with that.
While the pricing part will be challenging if you have no experience, knowing the value of your art will make it easier.
Here are a couple of tips and ideas that will walk you through the process of setting up prices for both original work and prints.
Pricing Original Art
Basically, the only correct way to sell art online is to turn that activity profitable. Otherwise, you'll only waste your time and effort.
To make sure that your art will bring you profits, you have to price it accordingly.
You must be wondering – how do you do that?
Well, here is an idea:
Calculate how much time and work it takes to create a specific piece of art. Then add the cost of materials and any other expenses you may have. Don't forget to include your markup (your profit).
More often than not, artists tend to undervalue their work. That happens a lot when you're a beginner, so take the time to set up your prices properly.
Pricing Art Prints
Pricing art prints is a very different process than original work.
Since you're not selling any original pieces, the process of setting your prices is easier:
See what's the cost to sell your print, market it, print it, and markup.
Also, check if the prints you'll be selling will be an open or limited edition.
Researching what other artists charge for similar prints will provide you with some extra helpful information.
Tips And Ideas To Successfully Sell Art Online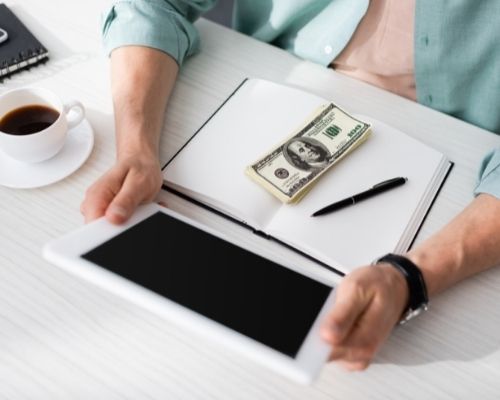 Truth be told, anyone can jump on the opportunity and begin selling artwork online.
However, you don't want to just sell a piece here and there over a number of years, do you?
Who would be OK with something like that?
Correct me if I'm wrong, but the goal here is to become a best-selling artist, isn't it?
Then, the first thing you need to work on is your mindset:
Selling enough art to live off your creative skills will not happen overnight. So, having a lot of patience is crucial!
Next, you have to accept that you'll go through lots of trial and error. Just like any other business, you'll need to adjust your selling and marketing strategy multiple times.
Also, it's worth mentioning that you should constantly work on your skills. After all, practice makes perfect!
How To Sell Art Online – Frequently Asked Questions
How Can I Sell My Art Online For Beginners? – First, you should narrow your work down to a niche. Afterward, learn as much as you can about the business side of selling art online. Later on, create an e-commerce store and sell to the best online art marketplaces at the same time.
What Is The Best Way To Sell Art Online? – By all means, the best way to start selling art online is by launching your own online store. Having an online shop will give you all business and creative control you need to develop your business as you see fit.
Is Selling Art Online Profitable? – Actually, selling art pieces on the web is more than a lucrative business. Of course, you'll have to work hard, apply smart marketing strategies, and improve your skills to turn an online store into a profitable art business from home.
Can I Sell Art From Home? – Sure, you can start selling art from the comfort of your home. Whether you'll work with art galleries or you'll start an online store, none of the options will require you to leave your home.
Is My Art Good Enough To Sell? – You're the only one who knows that. However, if you lack confidence in your art abilities, there is a way to work around that. For example, research what other artists charge for paintings of a similar quality to yours. And remember – art is subjective!
Can Instagram Artists Make Money? – You bet they can! Currently, there are many ways to monetize your Instagram business account if you're an artist. The most popular ones are through affiliate marketing and sponsored posts.
Time To Wrap
Alright, it looks like there is nothing else to say about selling art online.
We can keep the discussion going, though:
Do you have any questions about today's topic?
Is there an experience of yours you would like to share?
Feel free to do so in the comments section below.
I keep a close eye on it, so I'll get back to you soon!