How To Start An Art Business In 10 Simple Steps
Since you're looking for a tutorial on how to start an art business, I believe congratulations are in order:
For all intents and purposes, you're ready to see your art vision turning into a reality. Of course, you wouldn't mind making lots of money in the process, isn't that right?
Well, there is no better time than now to monetize your artistic skills:
Nowadays, millions of people live inside their laptops rather than on the outside.
As a result, artists don't have to try that hard to market their art locally:
The web is their oyster!
If everything so far speaks to you on the most personal level ever, you should keep reading this article to its very end.
Today, I'll walk you through the process of launching, building, and developing a profitable art business online.
This post contains affiliate links – read my affiliate disclaimer.
Why Do You Need An Art Business Plan?
Unfortunately, most aspiring artists don't fully realize that the key to living off their art is turning their creative work into an art business.
To clarify, the formative word here is business:
Yes, launching an art business is just like getting into any other type of online business.
Subsequently, passion for art and impressive artistic skills are not enough to transform your new venture into a source of income for years to come.
In other words, before you build your art business, you'll need a business plan.
Why does having an art business plan matter?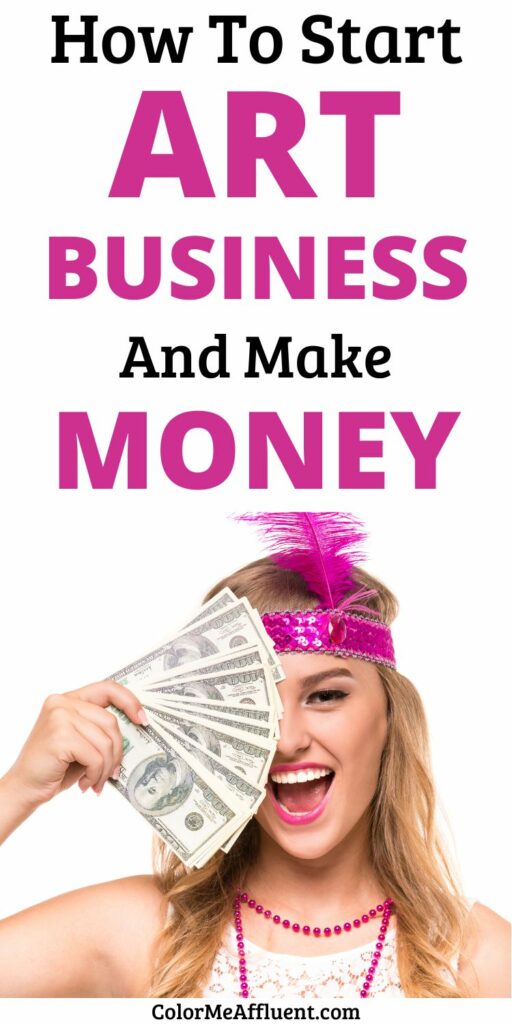 Following an art business plan is crucial to the success of your future business because it will allow you to outline and stick to the fundamentals of a profitable business.
Now, don't allow all that to intimidate you:
Coming up with an art business plan doesn't have to be a nightmare!
Art Business Startup Checklist
I suggest studying in detail the checklist I'm about to show you:
Doing so will help you establish a blueprint for long-term success.
Get a piece of paper and start answering the following questions:
Do I have a mission, and what does my mission as an artist look like?
What does success mean to me?
Short-term and long-term goals – what am I hoping to achieve?
Giving honest answers to these questions will begin crafting a path to walk on as an art business owner.
Once you have your answers, you can begin thinking about the essential aspects of your business.
For example, you'll need to have a clear idea about everything you'll have to do regarding market research, Social Media Marketing, design, etc.
How To Start An Art Business – Step-By-Step Guide
Alright, it's time for me to reveal the process of building a profitable art business from scratch.
Here are the steps you'll need to take to create an art business:
1) Choose A Niche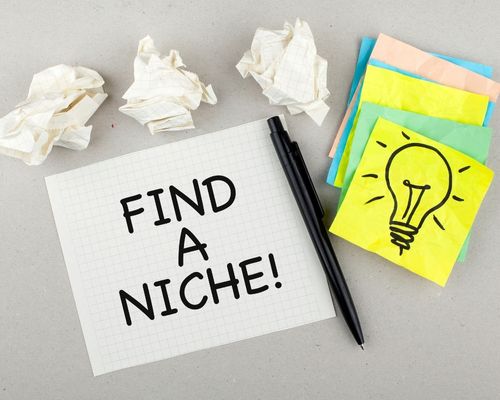 By all means, do you know what kind of art you want to offer to the audience?
Are you going to paint portraits, landscapes, or abstract works?
Furthermore, will you use acrylic paint? Maybe you'll bet on watercolor?
Whatever the answers to these questions might be, you need to know them from the get-go.
Chances are, I'm not the first to tell you that working without a niche is a terrible idea.
You may wonder why that is.
Well, here is why:
2) Identify Your Target Audience
Do I have to explain what the connection between niche and target audience is?
Fine, I will:
Unless you choose an art niche to work within, you won't be able to identify who your ideal customer is.
And discovering your target audience is crucial for the success of your business:
After all, you can't sell anything to anyone unless you know who that person is and what needs they have.
So, will you target wealthy individuals who don't mind spending thousands of dollars on a single work of art? Or are you planning to go after people who tend to purchase art prints since they can't afford to spend much on another type of art?
Figure this out from the start!
3) Create Great Artwork
Assuming that you already have a niche and you know who your target audience is, you're ready to move on to the next step of building your business.
As you can guess, that step is to create artwork your potential customers won't be able to resist.
Make no mistake – offering a high-quality product (artwork in your case) is still the essential ingredient of any successful business.
Don't underestimate your audience and pool of potential buyers.
Instead, take your time crafting a stunning piece of artwork every time you grab a canvas.
I suggest having at least ten artworks ready before you launch your business.
4) Price Your Artwork Accordingly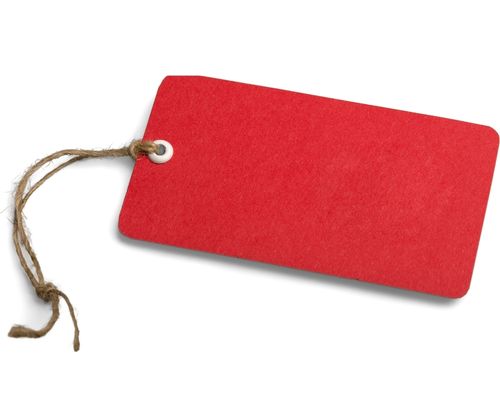 Before you begin selling your art, you have to come up with price tags for each of your pieces.
Now, how do you do that?
It goes without saying that your prices have to bring you profit. Otherwise, what's the point of having an art business in the first place?
How do you make sure that your art will be profitable?
Actually, the answer to this question is not that complicated:
Calculate the cost of each of your artworks. To clarify, by cost, I don't mean the price of the canvas and the painting materials you use.
No, you have to factor in the time you spend on each art piece, the amount of work it goes into creating it, the level of skill you have, etc.
With that said, you can take a look at this US Department Of Labor list that will give you a rough idea about the average hourly rate an artist can demand.
At this stage, you'll have more than enough information to help you price your artwork accordingly.
5) Choose A Business Structure
Heads up – this is probably the one paragraph of this tutorial on how to start an art business that deserves your undivided attention:
You're on the verge of launching a business. Therefore, you have to make sure that this business is going to be legal.
Believe it or not, even artists selling products online need to have a business license.
Quite frankly, doing some research will do you a lot of good.
Most artists go for sole proprietorship as a business structure – it's simple to set up and will meet your needs as a one-person show at the moment.
Also, I recommend having a separate bank account for your business – mixing personal finances with business ones is not a great idea.
6) How To Start An Art Business – Decide On A Marketplace
Up until now, you have most of the preparation steps covered.
What happens next?
Well, your next step is to pick a marketplace where you'll offer your art.
These days, you can begin marketing artwork on so many platforms.
However, launching a website or online store is still the best option for a marketplace.
Going with this option will give you all the creative control you need. Plus, an art website will accommodate your artworks and your artworks only.
Right now, you can launch a website for barely any cost at all. BigScoots offers superb web hosting plans that will cost you a few dollars a month.
Related Read:
7) Build The Presence Of Your Online Business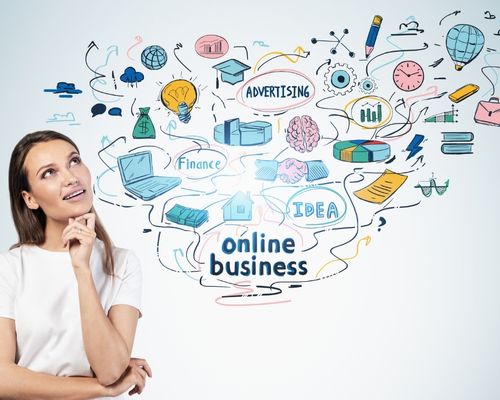 Above all, even the greatest piece of art would never sell if no one has the chance to find it.
Turning a newly created business into a profitable one relies heavily on the effort you'll put into promotion.
Social Media is an excellent way to get the word about your art out.
In my opinion, Instagram and Pinterest are both excellent fits for attracting a large crowd of potential fans.
These visual search engines will get your work in front of thousands of people who might decide to invest in it.
8) Make It Easy For Potential Buyers To Find Your Art
Showcasing your artwork on Social Media is important.
But having sort of a virtual office where future clients go to appreciate and buy your art matters way more.
That's why having an art website is an unavoidable step:
No matter your approach to how to start an art business online, everyone with an interest in your art has to have a way to connect with you directly.
What if someone really wants a painting you already sold? Why shouldn't you recreate it if that will bring you both an art revenue and the deepest appreciation of the customer?
Pro Tip:
Install Google Analytics on your art blog – that is a powerful tool that will give you invaluable insights into the performance of your art business.
9) Turn Your Fans Into Customers
Think what you will, but business is about people.
Launching a professional art website is a necessary step to making money as an artist. However, it's not enough:
Establishing a connection with your most devoted visitors is the name of the business game.
Take the time to answer the emails you receive from fans of your art. Likewise, go above and beyond to give them whatever they need from you:
You never know when a person who has been following your art for years will take the step and invest in your art.
Furthermore, you don't know who that person will recommend your art to – yes, I'm talking about the domino effect here!
10) Repeat The Steps All Over Again
Owning a business is not a set-it-and-forget-it kind of deal.
On the contrary, it's a never-ending process you'll have to repeatedly go through if you want to keep that business successful.
Keep improving your art skills and never take your eyes away from the market:
No online business will survive unless you constantly work to scale it and take it to the next level.
How To Start An Art Business Online – Frequently Asked Questions
How To Start A Drawing Business?
Starting a drawing business is no different than starting any other kind of art online business.
Basically, you'll have to build your portfolio, identify your target audience, price your work, and start marketing your drawing services.
Can A Beginner Sell Art?
Yes, newbie artists can sell their art even if they have no previous experience.
To start making money as a beginner artist, you have to create your artworks and begin promoting them on platforms where your target customers hang out.
What Kind Of Art Is In High Demand?
Nowadays, the kind of art that is in high demand are paintings, drawings, prints, collages, and sculptures.
How To Start An Art Business – Final Say
If you think that starting an art business will make you rich overnight, think again:
Transforming a brand new business into a lucrative venture requires hard work, tons of effort, and consistency.
But if you can't imagine another lifestyle than earning a living by doing the kind of art you love, the process will be worth it in the end!
Do you have any questions on this topic?
Ask me anything, and I'll answer as soon as I possibly can.