How To Sell Paintings On Amazon: Step-By-Step Guide
Are you wondering how to sell paintings on Amazon?
If you're an artist exploring the best sites to sell art online, Amazon is probably looking better than good.
And it should:
Currently, Amazon is the most visited e-commerce site in the USA – it attracts over 2.4 billion monthly visits.
Think what you will, but that's a large market of potential art buyers, to say the least.
Today, I'll cover tons of info about selling your art on Amazon:
How to start selling art on Amazon?
Is selling paintings on Amazon a profitable business?
Should you sell drawings online for money?
Can you make Amazon fine art prints work for your business?
Who Can Sell Paintings On Amazon?
Before I start explaining how to sell paintings on Amazon, let's shed light on who will be able to do that.
By all means, you don't have to be an artist to sell artwork on Amazon.
Furthermore, there is no need to own an art website or e-commerce store either.
Believe it or not, you can earn from displaying paintings on Amazon, even if you're an art curator.
To clarify, an art curator is a person who selects a variety of works of art. For example, an art curator can work with paintings, statues, and even video art.
In addition, an art curator may have to write labels, manage collections, and take care of other responsibilities.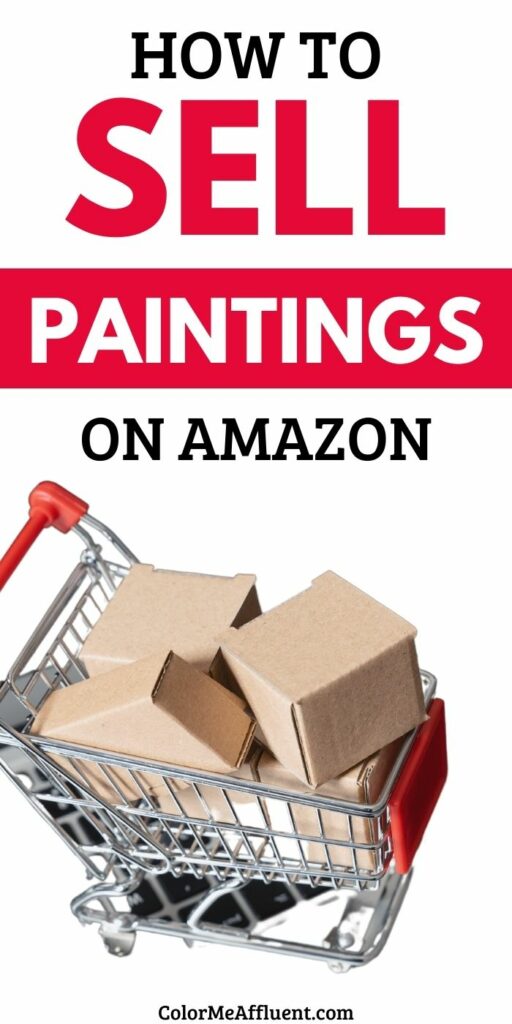 You may not know it yet, but the job of curators is easier when working with Amazon:
The enormous size of the platform and the number of its visitors make finding art buyers online a piece of cake for curators.
Related Read:
Are There Any Restrictions For Selling Art From Home On Amazon?
Basically, there are some restrictions you'll need to face if you want to deal with Amazon paintings on canvas.
According to the platform, you have to comply with all federal, state, and local laws once you decide to supply products for sale on it.
Also, you should keep in mind the site's policies for the products you'll be offering and their listings.
Long story short, not every piece of your art will find a place in the marketplace on Amazon.
With that said, what kind of artwork is not welcome on Amazon?
While you should check the policies yourself, I can tell you that the platform will not display any unauthorized copies or reproductions of artwork that violate any copyright or trademark.
What Artwork Can You Sell On Amazon?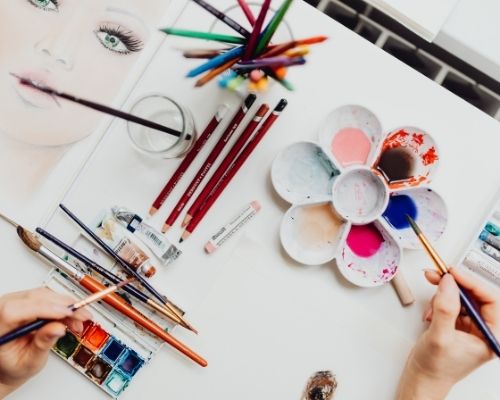 First and foremost, there is a pre-approval process you'll need to go through if you want to sell art on Amazon.
Hopefully, you'll pass it with flying colors!
To make sure that you're not breaking any rules, you need to know what kind of art is eligible for listing on Amazon.
Currently, this is the artwork that is eligible for sale on the platform:
Original paintings
Drawings
Watercolor paintings
Two-dimensional mixed media art
Limited edition photography and prints
How To Sell Paintings On Amazon – Step-By-Step Guide
Alright, I think you're ready to start making money from your art with Amazon.
There is no point in just keep talking about the process of becoming an art seller on the platform.
Instead, you should do it, and here is how:
1) Provide The Necessary Documents To Become An Amazon Seller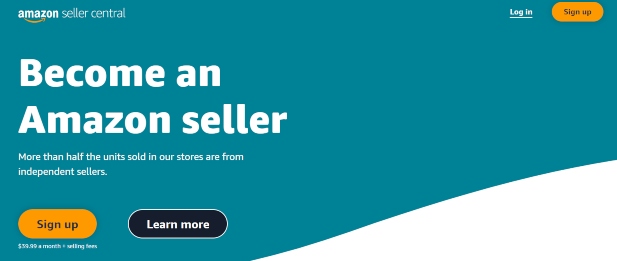 It goes without saying that you have to register at Amazon if you want to start selling on it.
With that said, you have to prepare a couple of documents before you sign up for the platform.
Make sure you have all of the following documents ready:
Business Information: You need to provide your business name, address, and constant information.
Email Address: Naturally, you have to enter the email address you plan to use for this company account.
Credit Card: Heads ups – your credit card has to be internationally chargeable and with a valid billing address. In case it is not, Amazon will cancel your registration.
Phone Number: Chances are, representatives of Amazon would like to reach you during the registration process. Subsequently, providing a working phone number is unavoidable.
Tax ID: Here, you'll have to write down your tax identity information, and that includes your Social Security number or your company's Federal Tax ID number.
State Tax ID: As you can guess, you'll need to show your State tax ID information for states in which you have tax nexus.
2) Register As An Amazon Seller
Once you provide the necessary documents, the process of becoming a seller is pretty straightforward:
Visit Amazon Seller Central
Create your account
Verify your mobile number through OTP
Choose your store name
Enter the remaining details on your Amazon Selling Dashboard
Upload your signature
Click Launch Your Business
And you're all set!
Hold on your horses, though:
You still need to learn a lot about how to sell paintings on Amazon.
The rest of the information you should know is coming up right now:
More Info About Selling Art On Amazon
Now, there are a few facts you need to be familiar with before you launch your business on the platform.
First and foremost, Amazon offers two types of accounts to all its sellers – Individual and Professional accounts.
If you choose the individual account, you can sign up for it free of charge.
However, having this account will limit you as a seller in certain ways:
By all means, selling artwork through an individual account will provide you with fewer features and benefits.
With that said, you can always go with the professional account.
Doing so will make running your business easier.
At the same time, it will cost you money – you'll have to pay $39.99 per month.
Depending on your budget, you can decide which of the accounts makes more sense to you.
I recommend starting with an individual account – it will save you money at the beginning.
As soon as your business takes off, you can always get a professional account.
How To Sell Paintings On Amazon – Frequently Asked Questions
Can I Use My Amazon Customer Account For Registration On Amazon Seller Central?
Yes, you can sign in using the data of your Amazon customer account.
But that's not the best idea ever:
To avoid getting tons of emails from the Amazon Selling Team, the least you can do is use a different email address.
Can You Have Two Amazon Seller Accounts?
No, you can't have two Amazon Seller accounts.
Unfortunately, the platform allows only one seller account per person's name.
Interestingly enough, some people are cheating the system:
They try to own multiple seller accounts by using different email addresses and mobile numbers.
Such activity doesn't last for too long:
Amazon suspends their accounts as soon as they notice what is going on.
Why Does Amazon Need My Tax Information?
Well, Amazon will ask you to complete your tax information because that's the law.
Should you even bother to learn how to sell paintings on Amazon if you don't plan to respect the law?
I'm sure you can come up with an answer to that question on your own.
Can I Register A New Amazon Seller Account If I Make Too Many Mistakes On The First One?
Basically, making mistakes while registering your seller account is nothing out of the ordinary.
I can tell you to be careful, but you still may write down something incorrectly.
Since you already know that Amazon allows only one seller account per person, starting a new one is not an option.
Instead, you should click on Help in your dashboard and work with the support team to handle everything that needs correction.
What Should I Do If Amazon Puts My Account Under Review?
Sometimes, the platform places certain accounts under review.
In case that happens to you as well, don't panic!
Keep calm and go through your information:
Make sure you're providing all the necessary documents and data
See if the information in the fields matches the documents
Check for typing errors
Don't upload info the platform doesn't require from you
Can I Trade As A Company If I'm Already Selling As A Sole Proprietor On Amazon?
Above all, you can change the legal status of your business from Sole Proprietorship to a Company.
It will not affect your account or the way you approach how to sell paintings on Amazon.
Time To Wrap
As you can guess, it's time to wrap this article up.
That doesn't mean the topic is over, though:
I'll keep updating it with more relevant information about how to sell paintings on Amazon in the future.
Until then, I wouldn't mind hearing everything you have to say about selling art on the platform.
Share your opinion in the comments section, and we'll talk about it further.