How To Sell Art On Displate In A Few Easy Steps
Are you ready to find out how to sell art on Displate?
Hopefully, you're:
While there are many other sites that will allow you to sell your art, Displate more than deserves your consideration:
These days, Displate attracts over 4.3 million monthly visitors
In my opinion, that's a gigantic pool of potential clients and art lovers who might invest in your work.
Displate will add one more source of revenue to your art business.
And today, you'll learn all about the process of selling art on Displate.
Let's get to it, shall we?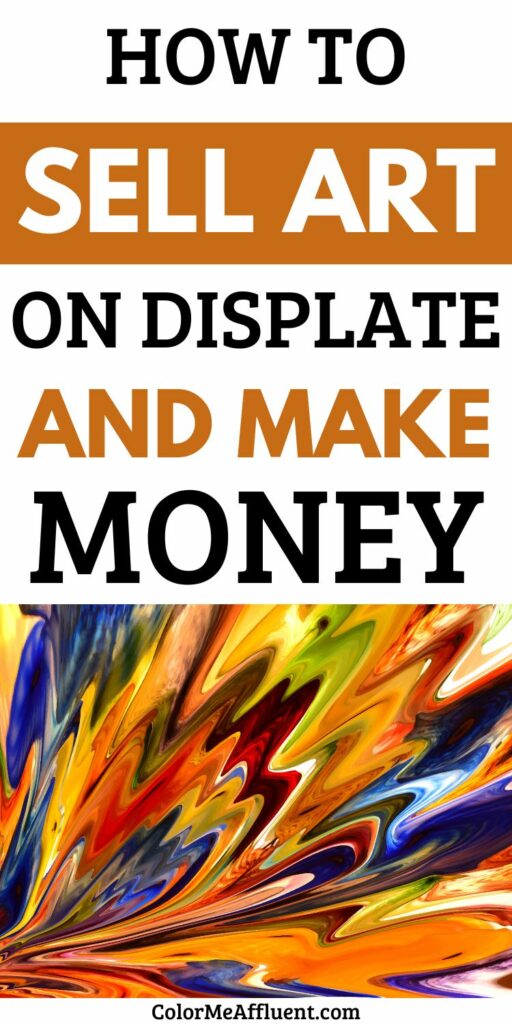 Recommended Read:
Things To Know Before You Start Selling Art On Displate

By all means, Displate will provide you with one more way to make money as an artist.
With that said, you have to decide how you want to use the platform before you create an account on it.
You can choose one of the following methods to earn on Displate (or go for all of them):
Share links to your art and earn a 50% commission for every sale you'll get through the platform
Print your artworks for an affordable price and sell them online
Upload your artworks and allow Displate to promote them to its audience of millions of people
Depending on your needs and where you're as an artist, choose the opportunity that makes the most sense for your art venture.
How To Sell Art On Displate – Step-By-Step Guide
Assuming that you're ready to begin marketing your art on Displate, allow me to walk you through the process of making that happen.
Here are the steps you'll need to take to start selling art on Displate:
1) Create Your Displate Shop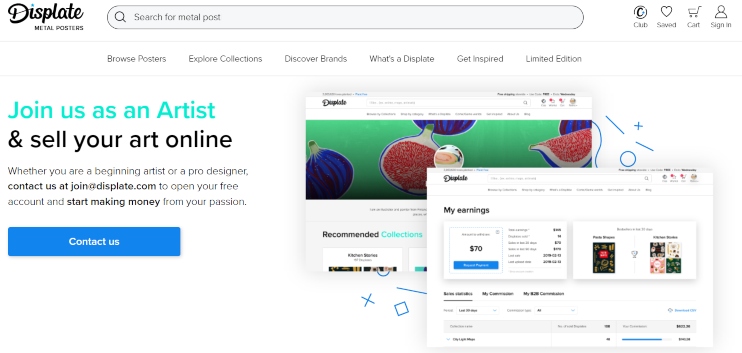 To clarify, everyone who wants to sell artwork on Displate has to launch an online store on the site.
Nowadays, Displate welcomes artists from all over the world:
It doesn't matter what kind of art you create – there is a place for it on Displate!
Registering your shop is free of charge, and you'll be able to complete it in a couple of minutes.
2) Complete Your Displate Profile
Considering the whole purpose of launching a Displate shop is to sell your art, it goes without saying that your Displate profile will need some work.
Millions of people will have the chance to see it – that's why it's crucial to make the right impression and leave a mark in the client's mind.
Write an in-depth bio that introduces you as an artist in the best way possible.
Don't be afraid to express who you're as an artist, why you do what you do, and what inspires your work.
3) Prepare The Images Of Your Artworks Before Uploading
As you already know, Displate is one of the most popular platforms that will let you sell your art to a worldwide audience.
Subsequently, it shouldn't come as a surprise that the platform has strict requirements for the art images it allows on its marketplace.
While uploading your images is as simple as it can get (you can add your files by dragging and dropping them or clicking a button), preparing them is a bit more complicated.
Displate Requirements For Artwork Images
Each artwork image you want to upload on Displate has to meet the following requirements:
Minimum 300 DPI in RGB mode (JPG size of up to 30MB)
At least 2900 px for the shortest side
1.4:1 ratio
The text has to be from the edge of at least 200 px for the file (min. size 4060 px x 2900 px)
A design's whole content has to be in only one uploaded file
No multiple uploads of the same art image with slightly changed colors or details
Tags have to be accurate to the subject of the artwork
Logos, watermarks, or borders are not allowed
You have to be the owner of the image
Chances are, those of you with no experience might find the process of preparing art images challenging and intimidating.
If you find yourself in a situation where you need some help, look for YouTube tutorials on the topic or browse any Displate Artist Reddit thread you can find.
Typing Selling On Displate Reddit in Google's search bar will most likely do the trick as well.
4) Upload Your Artwork Images
Once the images of your art are all set and ready to go, your next move would be to upload them.
An Important Info:
Uploading artwork images on Displate will work on desktop only!
5) Create A Displate Artwork Collection And Build Your Displate Portfolio
On average, clients shopping on Displate purchase a series of at least three artworks.
When you think about it, displaying more art images will give you better chances of selling on the platform.
Consider adding five vertical artworks to a collection – doing so will display a banner at the top of the page.
That banner will dynamically change the designs at all times.
6) Choose Image Name And Tags
Quite frankly, if there is one thing I want you to always remember from my guide to how to sell art on Displate, let it be this one:
Editing the tags after the image uploading process is over is not possible.
Long story short, be extra careful while choosing tags for your art images:
Adding the correct tags will boost your reach and visibility on the platform, and that will increase your sales.
I recommend describing your artwork as well – that's not mandatory, but it wouldn't hurt, right?
7) Wait For Displate To Complete The Verification Process
You may not know that yet, but Displate uses a complicated algorithm to verify each art image users want to upload.
No image will find a space on the platform before the verification process is complete.
How To Sell Art On Displate And Make Money
Alright, here is how you'll earn an income once you upload a decent amount of high-quality artwork images:
Every owner of a Displate shop has an access to their work dashboard.
Once your art begins selling, you'll be able to see these sales inside the dashboard.
Feel free to check your earnings by clicking on the My Commission or Sales Statistics tabs.
Display Payment Methods
Basically, Displate pays artists via PayPal.
Adding your PayPal address while creating a Displate shop is a must.
The minimum threshold is $50, and you'll receive your earnings no later than 45 days after requesting the payout.
How To Make More Money Selling Art On Displate
Displate attracts millions of art lovers every single month – that's a fact you're already aware of since I mentioned it earlier.
While the platform will showcase your art to the right audience, it wouldn't hurt if you try to boost the performance of your shop too.
And how do you do that?
Well, I suggest taking advantage of the power of Social Media and your blog (if you have one).
Use the Share And Earn link to copy and paste your artwork on Instagram, Twitter, Facebook, etc.
That will allow you to earn an additional commission every time a person purchases an item through the link.
Related Read:
Displate Artist Commission
Now, let's take a moment to discuss the artist's commission in Share and Earn, shall we?
You'll earn over 40% of the net price of your artwork as a commission.
Of course, that applies for a period of one month of sharing the link, and the amount of money you'll receive will be minus taxes and fees.
How To Sell Art On Displate – Frequently Asked Questions
Is Displate Good For Artists?
Yes, Displate is a great platform for artists who want to make money by selling their artworks online.
The website is one of the most popular places where you can upload images of your art or photographs and sell them to art lovers from all over the world.
How Do I Get Approved For Displate?
You have to follow some strict instructions if you want to see your art on Displate.
Avoid the following bad practices to make sure that you'll get your approval as a seller on Displate:
Uploading low-quality images
Increasing pixel dimensions manually
Using filters to enhance the quality of your product photos
Placing text way too close to the edge of the image
Adding a frame to the image
How Do I Submit Work To Displate?
By all means, you can't submit any work to Displate unless you register an account first.
Once you sign up to use the site, click the Submit Portfolio tab:
Displate verifies only messages that contain a link to an online portfolio.
Can You Put Your Own Picture On Displate?
Basically, ordering a Displate with your own image is a possibility.
However, that option is available only for the Displate Club members.
Does Displate Have Copyright?
According to the official policy of the site, Displate respects the intellectual property rights of its artists.
Expect a quick response from the platform regarding any claim that content existing on the site infringes the copyright or other intellectual property infringement of any artist.
Is Displates Worth It?
While not that affordable, the Displates products are worth the price.
And that would be because buying from Displate will give you the chance to get a unique art product that will last forever.
How To Sell Art On Displate – Final Say
Selling your artworks on Displate is worth the effort:
I think everyone will agree with me on that.
Sure, registering an account and building a memorable Displate profile will require some work on your part.
But you should still do it and give yourself the chance to make art sales through the platform.
With that said, I give the word to you:
What do you think about selling art on Displate?
Is that something you consider doing any time soon?
Let me know in the comments section below, and the chat on the topic will keep going!