Saatchi Art Review: What It Is And How It Works For Artists
Nowadays, there are so many ways to make money if you're an artist. This Saatchi Art Review will cover one of them.
Selling art through online galleries is one of the best ways to market your artwork.
Most online galleries attract thousands of potential buyers, and you should take advantage of that while you're building your art business.
And what about Saatchi? Is selling art on Saatchi worth the time and effort?
Sacrifice a few minutes of your time, and you'll find out!
Recommended Read:
What Is Saatchi Art?
Currently, Saatchi Art is one of the most popular online galleries that connect art buyers with sellers:
Many see Saatchi Art as the leading web gallery in the world.
All stats about Saatchi Art are impressive, to say the least:
The gallery showcases 1.5 million artworks. Furthermore, nearly 100,000 artists are selling their works through the site.
Feel free to compare these numbers with statistics about any other online gallery you can think of, and you'll see that Saatchi Art wins in any case:
Think what you will, but this gallery can beat any online platform that operates in a similar way.
Now, what does this mean if you're an artist looking to expand the reach of your art brand?
Well, it means that Saatchi Art is probably the best place to try to market your artwork.
Is Saatchi Art Legit?
Before this Saatchi Art review moves to the essential facts about the gallery, let's talk about the platform's legitimacy.
You'll be glad to find out that Saatchi Art is a legitimate online gallery anyone can join to sell artwork online.
Up until now, Saatchi Art has been featured on Forbes, HuffPost, Architectural Digest, and many other prestigious platforms.
Assuming that you can spare a second, I suggest visiting the Saatchi Art Trustpilot Page.
Once you do that, you'll see that the gallery has thousands of excellent reviews and a 4.4-star rating.
So, yes – it's safe to say that Saatchi Art is a legitimate online gallery, and joining it doesn't hide any risk for you as an artist.
What Can I Sell On Saatchi Art?
Quite frankly, you can sell almost any kind of artwork on Saatchi Art.
While paintings are the most popular items artists tend to sell on the platform, you'll be able to offer other artworks as well.
Have a look at everything you can list for sale on Saatchi:
Paintings
Drawings
Prints
Digital Art
Photography
Sculpture
As far as paintings go, Saatchi will allow you to sell both original work and prints.
In addition, Saatchi is an excellent place to sell physical prints you create yourself or use the site's Print-On-Demand service to market prints through the platform.
It's worth mentioning that the company will print and ship products on your behalf, so you won't have to do it yourself.
Saatchi Art Requirements For Sellers
Generally, there aren't many requirements you'll have to meet if you want to become a seller on Saatchi.
Right now, artists have to complete only two steps before Saatchi allows them to use their platform:
You'll have to prove that you're 18 years old (or older) and provide a photo ID so the company can verify your identity.
Once you do that, you can proceed to start selling artwork on Saatchi.
How To Sell Artwork On Saatchi Art – Step-By-Step Guide
Now, if I want this Saatchi Art review to be complete, I'll have to walk you through the process of becoming an art seller on the platform.
And that's what I'm going to do!
Here are the steps you'll need to take to sell artwork on Saatchi:
1) Create A Saatchi Account For Sellers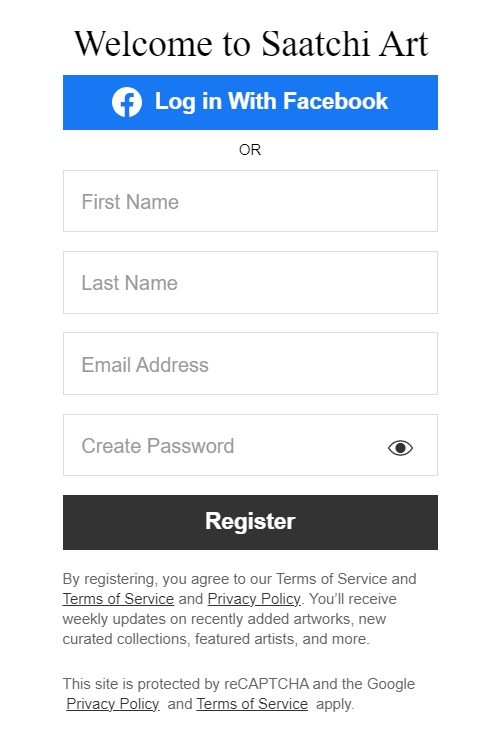 Signing up for an account on Saatchi is pretty straightforward:
Visit SaatchiArt.com
Click Register on the top right corner of the webpage
Provide your details (name, email address) and create a password
Wait for the confirmation link in your email (once it arrives, click on it to confirm)
Build your Saatchi profile
I'm sure you can handle this process with no issues. However, you'll need to do a bit more with your account before you proceed to upload artwork.
As I mentioned earlier in this Saatchi Art review, the site requires a verification of your ID.
Sure, some of you might not be comfortable with providing that.
But the only way to be able to receive payments from Saatchi is by uploading a government-issued photo ID.
There is no way around that!
With that said, Saatchi will let you verify your identity by walking you through an easy process I'm sure you'll be able to manage.
2) Upload Your Artwork
Alright, the next thing you'll have to do once you finish creating your Saatchi seller account is to upload your first artwork on the platform.
To clarify, there is no limit to the number of works you can upload. Your image files have to be 1500W x 1200W pixels (or larger), and the color format Saatchi will accept is RGB.
So, go through the following steps to upload your first artwork for sale on Saatchi:
Hover over your name (you'll find it in the Main Menu)
Select Upload Art (that will redirect you to another page)
Click the Upload Now button
Find the image you want to upload and select that file
After you upload the image, select the subject of your artwork from the drop-down menu
Pick a category for your artwork (photography, painting, drawing, etc.)
State the year of creation of your art
Describe the materials and the style of your artwork
Add at least five relevant keywords
Write down the correct size of your art piece
Type the title of your work
Choose a shipping method and provide the total shipping weight of your artwork
Select your pick-up location
Decide on a price (keep in mind that the cost of packaging is your responsibility)
Submit your artwork, and Saatchi will begin displaying it to customers worldwide
3) Ship Your Original Artwork After Making A Sale
Sooner or later, you'll make your first sale on Saatchi. How about we discuss the shipping process if you manage to sell an original artwork?
By all means, the shipping cost is something the customer has to pay.
That's why it's so important to provide the correct details about your artwork during the uploading process:
Saatchi will use these details to calculate the shipping costs.
The company will send you a UPS shipping label you'll have to attach to the package after they pick it up.
No worries, though – the process is not as complicated as you might think.
More importantly, Saatchi will assist you and support you, so there is help on the way in case you need it!
Related Read:
How Much Does It Cost To Sell On Saatchi Art?
One of the essential paragraphs of this Saatchi art review is the moment when we have to discuss whether the gallery has a commission fee or not.
Well, you'll be pleased to find out that creating a seller account on Saatchi is free of charge.
You can sign up to use the platform, and it won't cost you anything.
With that said, Saatchi will charge a commission fee on every original artwork you manage to sell. That fee is 35% of the asking price of the product.
And what's the situation with your earnings from selling prints?
Saatchi sets a base price for any print-on-demand product, so you can go for higher profit margins by adjusting the final price yourself.
How Do I Get Paid On Saatchi Art?
Currently, Saatchi Art pays its sellers in three ways:
Feel free to request a payout a week after you make an art sale and the product is already with its customer. You'll receive your earnings in two weeks after requesting them.
I have to mention that Saatchi will ask you to fill out a tax form – there is nothing out of the ordinary about that:
Most international companies that deal with online selling require tax information from business owners using their platforms.
Saatchi Art Review – Frequently Asked Questions
What Is The Artist's Handbook?
Once you gain access to Saatchi as an art seller, you'll notice a section on the platform with the name Artist's Handbook.
In short, the Artist's Handbook is a library that contains tons of tips, tricks, and ideas to help you sell more art on the platform.
Taking the time to go through this library is worth the effort – the resources are quite valuable, in my opinion.
Related: 10 Selling Art Online Tips And Tricks
Are There Any Problems With Saatchi Art?
I wouldn't call it a problem, but there is something you shouldn't consider before starting to sell artwork on Saatchi:
As you already know, Saatchi will create prints of your original work you can sell online. The platform takes care of printing, packaging, and shipping these prints to the clients.
However, many artists complain that the way Saatchi showcases their art prints makes it easy for thieves to steal them.
No one wants to deal with stolen art – it's an unpleasant experience that will turn unproductive for you in the end.
So, take the time and think about whether you should use the option of selling prints on Saatchi at all.
Does Saatchi Art Sell?
Up until now, the artists selling on Saatchi have sold artwork in over 80 countries.
These days, Saatchi Art attracts around 15 million monthly pageviews, so there is a lot of interest from buyers.
But there is tons of competition on Saatchi as well:
Your artwork will have to shine above paintings and prints from thousands of other sellers.
Final Say
OK, I think this is it for today – my Saatchi art review is at its end.
Above all, Saatchi Art offers many ways to make money selling original artwork and prints online.
Whether the platform is the right fit for your business or not is something you'll have to decide on your own.
What questions do you have on this topic?
Is there something you don't understand about becoming an art seller in Saatchi?
Tell me in the comments section, and I'll give you a hand with anything you might need!
More Content From Color Me Affluent You May Like: