How To Sell Art On Shopee: A Beginner's Guide
Are you impatient to learn how to sell art on Shopee?
You should be:
Nowadays, Shopee is one of the popular platforms where artists can sell their paintings online.
While there are many other sites you can use to sell art on the web, Shopee should be on your mind too:
According to statistics, Shopee is one of the largest e-commerce platforms in the Philippines:
Nearly 55 million people visit Shopee to browse products they might be.
As an art business owner, you'll be crazy not to take advantage of such an enormous pool of potential customers.
Today, I'll walk you through the process of selling art on Shopee.
Let's get to it!
Recommended Read:
How To Sell On Shopee Without Shipping
Before we go any further, a few clarifications are in order:
By all means, this guide about selling art on Shopee will not cover the process of offering paintings or other physical art on the platform.
No, we'll concentrate on selling digital art only!
With that said, what a digital product on Shopee is?
In short, a digital art product is any work the customer will receive in an electronic format.
It goes without saying that marketing such artwork online will eliminate the shipping process.
And that's excellent news for you as an art seller and your future clients: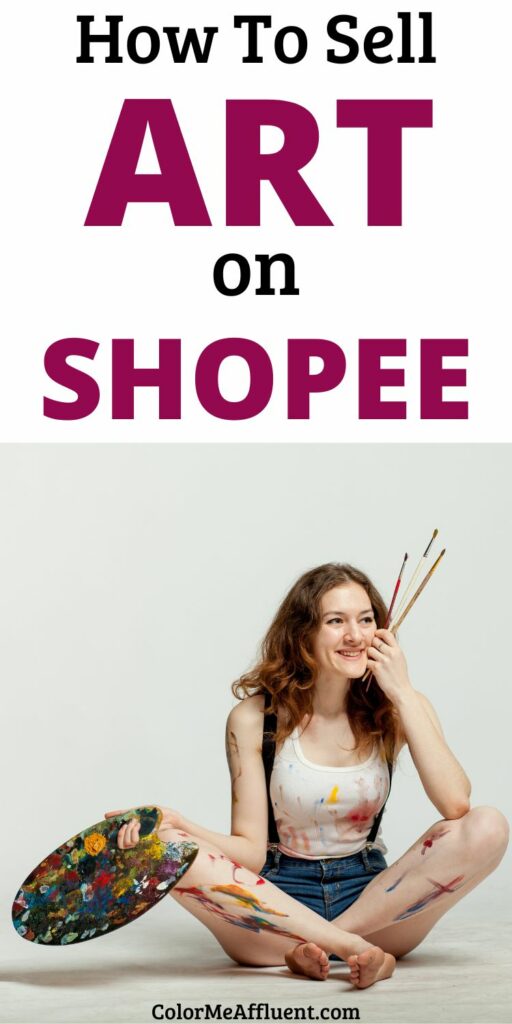 You'll be able to list your digital art products at more than reasonable prices, and your clients will save tons of money since they don't have to pay any shipping costs.
Why Should You Sell Digital Art On Shopee?
Generally speaking, there are many reasons to upload, offer, and market your digital art on Shopee.
Have a look at the ones I consider essential in this case:
An opportunity for passive income: One of the best things about selling digital art is that you can offer the same download for sale over and over again. Subsequently, you'll be in the perfect position to turn this art business into a source of passive income.
It's easy to calculate your prices: More often than not, artists have a hard time pricing their work. However, you don't have to worry about that when you sell art on Shopee – just research other artists offering similar works and take notes of their prices.
Another source of a large audience: As a business owner, you must know by now that the more people see your art, the bigger your chances of making art sales will be.
How To Sell Art On Shopee – Step-By-Step Guide
First and foremost, getting your art business on Shopee is a simple process.
There are a few steps you'll need to take to begin selling art on Shopee.
Here they are:
1) Create An Account On Shopee
Without further ado, follow these steps to begin your selling journey on Shopee:
Visit Shopee.com
Sign up for an account (you can do that by using your Facebook or Google account or by adding your phone number
Login to your Seller Center
Complete your seller profile
2) Make Sure Your Number Is Verified
Heads up – here comes one of the essential facts in this tutorial that covers how to sell art on Shopee:
Your number has to go through verification before Shopee allows you to become a seller on the platform.
Once your number is verified, you'll need to take a test.
That test exists to confirm that the artworks you're planning to sell are not listed under the category of prohibited items.
Assuming that your work is in order and eligible for sale on the platform, Shopee will send you an email with a direct link to your new store.
3) Build Your Shopee Seller Shop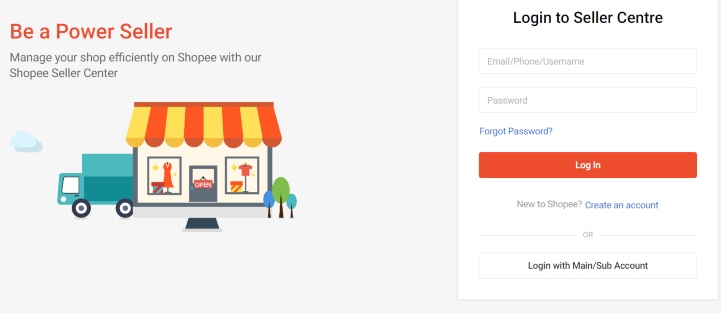 Next, it's time to spend some quality minutes building your brand new Shopee shop!
I don't have much to share with you about best practices regarding developing your store:
After carefully going through your Shop Settings, I'm sure you'll manage to complete your Shopee profile and give your shop the look you desire!
4) Add Your First Product
Again, there is nothing difficult about stocking your Shopee store with products.
See for yourself:
Tap My Shop (you'll find it under the Me Tab)
Click Add New Product
Upload a high-quality photo of your artwork (feel free to add up to nine images). Using an existing photo and even an Instagram image are both possible when you're uploading a product photo on Shopee
4) Fill In The Details Of Your Digital Art Products
Each artwork you offer for sale on Shopee will require adding some details.
Such as:
Name of the product
Description
Category
Stock
Price
Variation
As soon as you add the last detail necessary to describe your work, you can click the Submit Tap, and your Shopee product listing will be live!
How To Sell Art On Shopee – Frequently Asked Questions
How Do I Sell Intangible Products At Shopee?
There is key information you have to provide when you list a digital product or service for sale on Shopee:
Product Description: Within the description of the product you're selling, you'll need to provide as many relevant details as possible.
Instructions About Receiving The Product: It goes without saying that your clients have to know how they'll receive the product or service they choose to purchase.
Terms And Conditions
What Is A Digital Purchase In Shopee?
Basically, a digital purchase in Shopee is a sale of products customers will receive in a form that is not physical.
For example, such products might be downloads, e-vouchers, or pre-paid mobile data.
How Do I Get More Viewers On Shopee?
Quite frankly, there is a lot you can do to attract a larger viewership on Shopee:
Do flash sales on at least a few products
Offer vouchers to boost your sales
Give opportunities for discounts to your most loyal clients
Learn how to create a high-converting Shoppe Sales Funnel
Build and run campaigns that will increase the visibility of your products on the platform
Where Can I Sell Digital Art For Beginners?
Final Say
At this point, you already know how to sell art on Shopee.
Again, listing your artwork for sale on the platform is a simple process:
Just follow the instructions you see above in this article, and you'll become an art seller on Shopee in less than an hour!
Do you have any questions about this topic?
Is there something about marketing your art on Shopee that you don't get?
Ask me anything you want in the comments section, and I'll answer your questions to the best of my abilities.