ArtPal Review: What It Is And How It Works?
This ArtPal review will be another source of information if you're ready to start selling your art online.
While there are many online platforms that will allow you to list your art for sale, taking advantage of one more won't hurt.
Whether you're a newbie or an experienced artist, building a profitable art business should be your end goal.
But how do you choose the best way to make money as an artist?
Well, you can find out as much as possible about all the options before making a decision.
Today, I'll tell you everything there is to know about ArtPal:
What is ArtPal, and how does it work?
How much does it cost to sell on ArtPal?
And what can you sell on ArtPal?
Disclaimer: I'm not an affiliate of ArtPal. Each fact you'll read in this article comes from research on information in the public domain.
Recommended Read:
What Is ArtPal?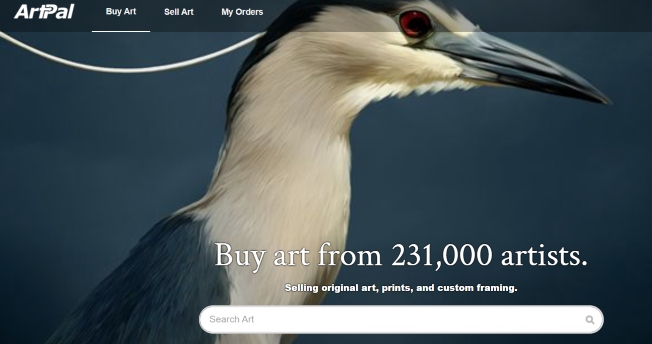 To sum up, ArtPal is an online platform anyone can use to buy or sell artwork.
ArtPal attracts a worldwide audience – art lovers from all over the world are able to visit the site and purchase the art they like.
As an artist, you can create an account on ArtPal and begin offering your art for sale within minutes.
Nowadays, you can sell all kinds of artworks on ArtPal – we'll discuss them in detail later in this ArtPal review.
Before we do that, let's take a look at how the platform works, shall we?
How Does ArtPal Work?
Considering you're here to learn how to profit from ArtPal as an artist, I won't cover the way the site works for buyers.
Instead, I'll direct your attention to the way you can use ArtPal to make money by selling your art.
Quite frankly, the working process of ArtPal is simple and straightforward:
If you want to become an art seller on ArtPal, you can do so by completing the following steps:
Visit ArtPal
Click on Sell Art
Create your free gallery on the platform
Upload your artwork
Choose how you want to receive your earnings
Begin selling your art
With that said, I have to mention that ArtPal does a lot to help its artists succeed:
Nowadays, the platform puts tons of marketing effort to get you more exposure and better chances to sell your art.
Are There Any ArtPal Fees?
At the time of writing this ArtPal review, there are no ArtPal fees you'll need to pay to become an art seller on the site.
In other words, you can join ArtPal as an art seller without paying any membership fee or another type of commission.
Assuming that you want to sell both original artwork and art prints on ArtPal, you can do that without worrying that the platform will get a commission from your sales.
For example, let's say that you want to sell print-on-demand products on ArtPal.
Chances are, you might think the platform will charge you for that, but it's not going to happen:
ArtPal will set a base price for your print-on-demand items. Meanwhile, you'll be able to set your profit margin above that base price.
What Can I Sell On ArtPal?
Basically, ArtPal will allow you to sell almost any type of original art.
Such as:
Paintings
Prints
Drawings
Illustrations
Digital art
Photography
Sculptures
Carvings
Ceramics & Pottery
Textile & Apparel
Glass
Jewelry
Crafts and other art
Also, you can sell print versions of your original artwork if that makes sense for the art business you're building.
As you already know, ArtPal has its own Print-On-Demand service you can use to sell art prints and your artwork on merchandise.
Related Read:
How Much Do I Earn When My Art Sells On ArtPal?
Without a doubt, the most essential section of this ArtPal review is the one that explains the situation with your profits.
So, here is the deal when you start selling artwork on ArtPal:
Firstly, if you plan to sell and ship original art, ArtPal won't charge any commission on your profit – you get to keep 100% of your earnings.
Secondly, if you use the Print-On-Demand service to sell prints, you'll pick a profit margin that will add to the base print price of the platform. Again, all profits from print sales will go directly to you.
How Do I Get Paid On ArtPal?
Any earnings you manage to get from selling artwork on ArtPal will go into your PayPal account.
You'll receive your profit from selling original paintings or other artwork immediately.
However, your earnings from selling print-on-demand products will become yours after the money-back guarantee (30 days) expires.
Expect these earnings on the 15th of every month.
ArtPal Pros And Cons
Pros:
ArtPal is free to join: Anyone can begin listing artwork for sale on ArtPal for free.
There is no commission: Art sellers receive 100% of their earnings since there are no ArtPal fees.
Each seller gets to create their own ArtPal Gallery: It doesn't matter what kind of art you plan to sell – ArtPal will let you showcase it in your own gallery.
The platform is beginner-friendly: Even if you have no experience with selling art online, the site will make the process as simple as possible for you.
Excellent Print-On-Demand service: It's hard to find any complaints about the quality of the Print-On-Demand service ArtPal provides.
All customers are welcome to use the Room View: Room View is a feature that lets clients see what your art looks like and the colors you use on each artwork.
Huge Exposure: Nowadays, ArtPal will showcase your products to hundreds of thousands of potential buyers.
Cons:
You might have to do some extra marketing: While ArtPal does a lot of the marketing for the artists, you should put some extra effort to advance your art business further.
ArtPal Review – Frequently Asked Questions
Is ArtPal Worth It?
Selling artwork on ArtPal is more than worth it:
Joining the platform as a seller comes with no investment on your part – you can create an account on ArtPal for free.
Next, ArtPal won't charge any commission on your earnings – you get to keep 100% of your profits.
Ultimately, ArtPal will display your art in front of a large audience – thousands of potential buyers will have the chance to purchase your art or print-on-demand products.
Is The ArtPal Print-On-Demand Service Any Good?
Actually, the ArtPal Print-On-Demand service is better than good:
That service guarantees high-quality products that will arrive at their clients on time.
Also, using the Print-On-Demand service of ArtPal means that you'll be able to set your own profit margin and increase the prices of your products as you see fit.
Does Anyone Sell On ArtPal?
Nowadays, there are over 200,000 art sellers on ArtPal.
If you want to become one of them, feel free to hit the ArtPal Register button here.
Where Is ArtPal Based?
Well, ArtPal is based in San Juan, NA – Puerto Rico.
Final Say
I doubt any of you will have regrets if you decide to sell your artwork on ArtPal.
Hopefully, my ArtPal review makes this fact clear!
Now, how do you feel about developing an art business on ArtPal?
Do you see yourself creating your own ArtPal Gallery?
Let me know in the comments section below, and we'll keep discussing this topic!
More Articles You Might Like: