How To Sell Digital Art Online And Make Money (The Easy Way)
Are you ready to find out how to sell digital art online?
You better be:
We live in a digital world, and not using its possibilities is not an intelligent decision – no matter how you want to look at it.
Nowadays, most artists know they can make money from their art in multiple ways.
Whether they trust platforms to sell their artwork or launch an art business, art sellers rely on plenty of revenue sources.
Today, we'll take a look at one of these sources – the opportunity to earn money by selling digital art online.
This post may contain affiliate links – see my affiliate disclaimer.
Recommended Read:
Why Sell Digital Art Online?
Before I show you how to sell digital art online and make money, let's talk about why you should do it.
After all, many of you might think that selling paintings and shipping them as physical products is enough to earn a full-time income.
Well, you're not entirely wrong to think that way:
By all means, you can earn thousands of dollars by selling online physical artwork.
But why limit yourself to the possibilities of such business when there is a much better strategy?
Here is the deal:
Selling digital art will allow you to create a passive income stream.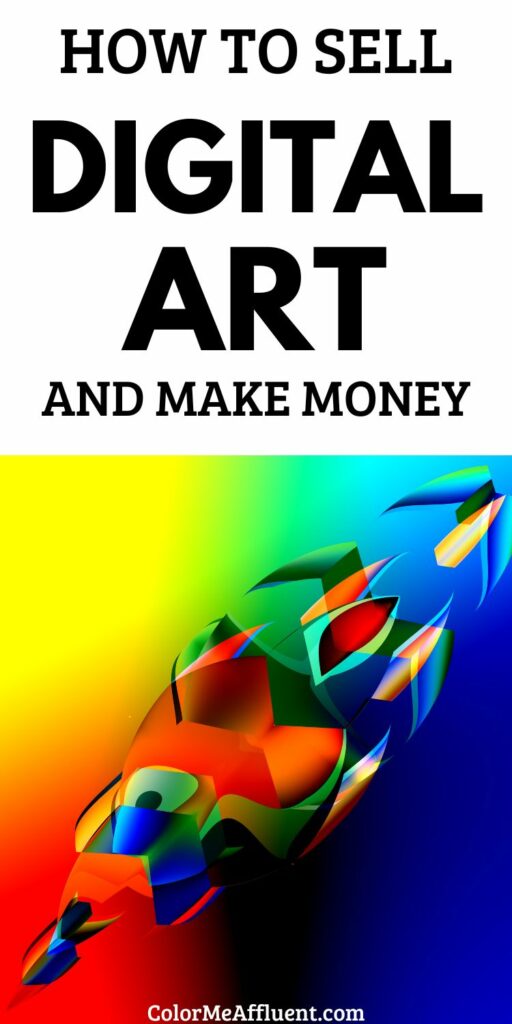 That's the beauty of listing digital artwork for sale – you can create an art piece once and sell it thousands of times.
Moreover, selling digital art prints reduces the expenses of running your business since you won't have to deal with shipping fees.
Is There A Market For Digital Art?
According to statistics, the market for digital art is doing better than ever:
Statista will tell you that digital artwork purchases are hitting the roof these days:
Overall, the digital art marketplace brings billions of dollars a year (over $13 billion, to be exact).
Digital Art Websites To Consider
Now, you may wonder about the best digital art websites that will be willing to pay well for your artwork.
Here are a couple of examples of websites, platforms, brands, and companies you can start selling your art:
Established companies that are ready to re-brand
New businesses that need branding
Collectors and art enthusiasts
Large online galleries
eCommerce stores
Graphic designers looking for graphics and drawings
Other designers and artists
Social Media influencers interested in purchasing brand kits
If you want to discover other similar platform opportunities, consider researching queries, such as how to sell digital art on Amazon and how to sell digital art on Instagram.
How Much Money Can You Make Selling Digital Art?
Unfortunately, no one can give you an exact number of the monthly earnings you can expect as a digital art seller.
With that said, selling digital art online is more than a profitable business idea:
Believe it or not, many digital art sellers earn six figures from their online businesses.
Chances are, you may want to learn what the most lucrative digital art products currently are.
Wonder no more, I'm about to tell you:
High-Paying Digital Art Products
Stock photography
Craft patterns
Downloadable prints
Software
Games
Graphic design products
Templates
Memberships
NFTs
How To Sell Digital Art Online And Make Money- Step-By-Step Guide For Beginners
Alright, it's time to walk you through the process of selling digital art on the web.
Here are the steps you should follow to begin selling digital art online and earn an income:
1) Get Your Digital Files Ready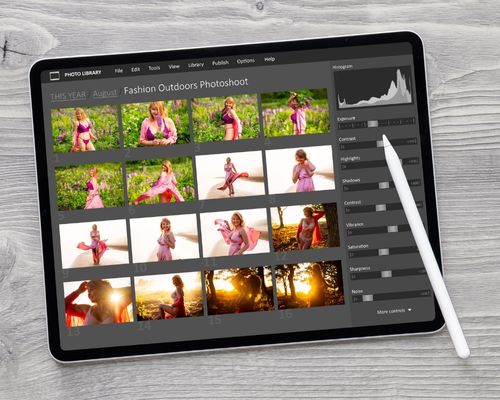 The first step you'll need to take is to prepare your digital files:
That's something that needs to happen before you do anything else!
When you print an image, the quality of that image is measured in DPI (dots per inch). In other words, DPI measures the number of pixels in each inch.
Considering you must be aiming for high print quality, your image files have to be at least 300 DPI.
I can't tell you how many DPI you'll need for each art print you plan to sell – that depends on the type of prints you're creating.
An Important Info:
Don't ever resize an art image you already have:
Resizing a small image file to a larger one will stretch it out. Subsequently, the quality of the final image will be low.
2) Set Up An Online Store
Once you have your art print images ready, your next step is to set up an online store.
These days, many online platforms will allow you to launch your own store to sell digital prints.
And you can use most of them without paying lots or any money upfront.
Now, I suggest doing some research before you pick a platform for your digital art shop.
While you can sell digital art prints on as many platforms as you like, that will be a time-consuming process.
Have a look at the best platforms where you can open a digital art store:
Related: 25 Top eCommerce Platforms For Artists
3) Set Up A WordPress Website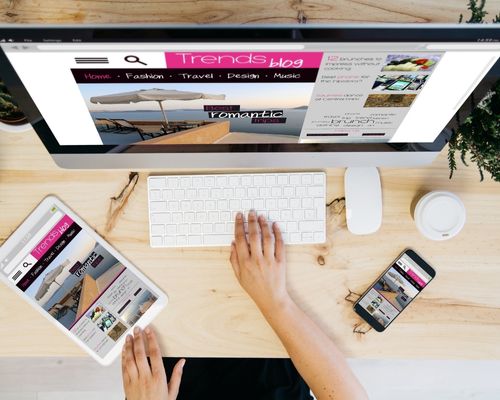 While selling digital art on platforms like Etsy is an excellent business idea, launching a WordPress site to list art prints for sale is even better.
Owning an art website will give you all the creative, marketing, and business control you might need.
Plus, the process of setting up such a site is not as difficult as you may think:
Pick A Domain Name: Keep in mind that the domain name of your WordPress site will introduce your business to the audience. So, your domain name will also be the name of your online digital art business.
Choose A Top-Notch Web Hosting Provider: A web hosting service will store and manage your site's files online. BigScoots is one of the best web hosting companies you can get – the plans are affordable, and the customer service is flawless.
Upload An eCommerce Plugin: Since your website is a place where you'll sell downloadable files, you'll need to install an eCommerce plugin. You can do some research on that topic. But if you need a suggestion, I recommend going with Easy Digital Downloads.
Add Payment Gateway To WordPress: It goes without saying that selling digital art requires accepting credit card payments from your customers. You'll be glad to know that Easy Digital Downloads supports payment gateways such as PayPal, Stripe, and Amazon Payments.
Finally, Upload Your First Digital Art Product: Assuming you'll get Easy Digital Downloads, the plugin will allow you to easily add your first product to your site. Go to Downloads, then click on Add New, and begin the uploading process.
4) Consider Selling Your Digital Art Prints On Alternative Platforms
Up until now, you already know how to sell digital art online via a WordPress website and platforms like RedBubble and Amazon.
What if you want to reach a larger pool of potential art buyers?
Well, then you should think about listing your digital art for sale on alternative platforms.
Sure, Amazon will provide you with an enormous marketplace where millions of people will be able to see your art.
However, there are other platforms where thousands of art enthusiasts hang out these days.
Such as:
5) Market Your Digital Art Prints On Social Media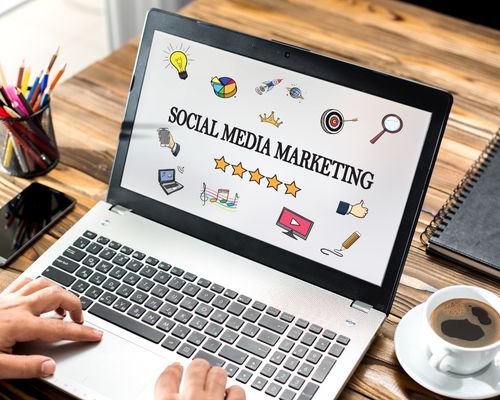 Quite frankly, offering digital art online is one of the best ways to make money as an artist.
Let me ask you, though:
How many art sales do you think you'll make if no one gets to see your products?
Until your art business becomes well-known and established, you'll have to drive traffic to it on your own.
One of the most effective ways to market your digital art products is via Social Media channels.
Most Social Media Networks will advance your art business once you learn how to leverage their power.
Unfortunately, I doubt you'll have the time and energy to master each Social Media Network you can join:
To save you some time, I suggest starting to market your digital art business on Facebook and Instagram.
Later, you can put your energy into marketing your art on other Social Media platforms as well.
How To Sell Digital Art Online – Frequently Asked Questions
Where Can I Sell Digital Art Online?
You can sell digital art online on any of these platforms:
Amazon
Redbubble
Etsy
Fine Art America
Shopify
Pixpa
What Is The Best App To Sell Art?
Nowadays, many apps will allow you to start selling art online.
One app that you might want to look into is Artsy:
Artsy is an online art marketplace that accommodates the works of over 100,000 artists.
What Qualifies As Digital Art?
Basically, digital art is the artwork a person creates via a computer, software, or other electronic devices.
Anything you'll manage to create on digital media (drawings, illustrations, art prints) will qualify as digital art.
Can Digital Art Make Money?
Yes, you can make money selling digital art online.
Artists sell paintings, illustrations, and even sculptures as digital art prints.
Final Say
Do you love the idea of earning money by selling art prints online?
Hopefully, you do!
Up until now, you've learned everything there is to know about the topic of listing art prints for sale.
Is there anything you would like to ask me while we're still on the subject of how to sell digital art online?
Drop your questions in the comments section, and I'll answer them as soon as I can.