25 Best eCommerce Platforms For Artists (Free And Paid)
Knowing the best eCommerce platforms for artists is crucial if you want to make a career in selling artwork online.
Whether you're an aspiring artist or an experienced one, earning money from your creations must be on your mind:
While doing paintings or digital art is an excellent hobby, there is nothing wrong with letting it boost your income.
With that said, the online world provides tons of opportunities for artists who want to monetize their artworks.
However, not all online platforms for selling art will satisfy your needs to the fullest.
Today, I'll show you the top eCommerce platforms for artists.
Recommended Read:
Best eCommerce Platforms For Artists
Without further ado, let's look at the leading eCommerce platforms you can use as an artist.
Here they are:
1) Shopify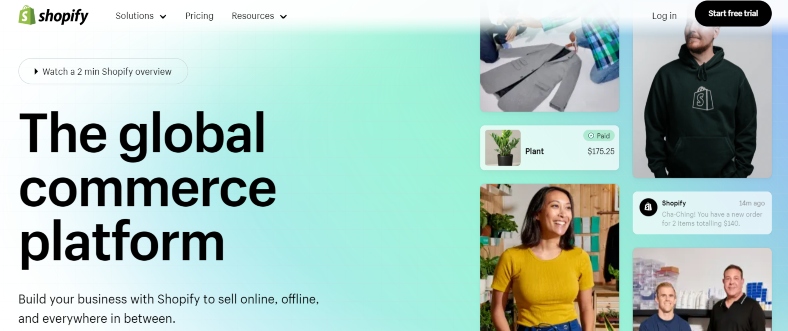 By all means, Shopify is the most popular eCommerce platform among not only artists but all kinds of business owners online.
And there is a good reason for that:
Shopify's interface is easy to use and beginner-friendly. Plus, the platform offers a free trial that will allow you to launch your art business with no investment.
More importantly, Shopify provides tons of valuable tools for your art store to reach the next level.
You can integrate your Shopify store into all top Social Media Networks – that alone will increase the visibility of your art shop online.
Don't worry if you have no idea how to use Shopify – the platform will give you access to plenty of teaching videos and tutorials.
Get ready to take advantage of many stunning and customizable themes that will give your brand an unforgettable look.
Shopify Pricing
As you already know, Shopify comes with a free trial.
On top of that, you can use everything the platform has to offer for $1 a month for the first three months.
Once that period is over, you'll have to choose a plan – the Basic Shopify Plan costs $29 per month.
Learn everything there is to know about Shopify when you have a minute.
2) Squarespace
Quite frankly, most articles about the best eCommerce platforms for artists have Squarespace in the top position.
Well, I'm placing it at the proud second one:
Above all, Squarespace is one of the top website builders many artists prefer because of its incredible way of delivering visual work.
Feel free to think of Squarespace as an eCommerce platform that is all about design:
Photographers, graphic designers, and painters often choose Squarespace for their businesses.
To clarify, Squarespace is a drag-and-drop website builder – using it will let you easily customize every element of your web pages.
It's worth mentioning that Squarespace will help you offer an excellent user experience – your site will be highly responsive, especially on mobile.
Squarespace Pricing
Squarespace has different plans you can choose from depending on your needs.
There is no need to pay anything upfront – the platform offers a 14-day free trial you can take advantage of to test the waters.
3) BigCommerce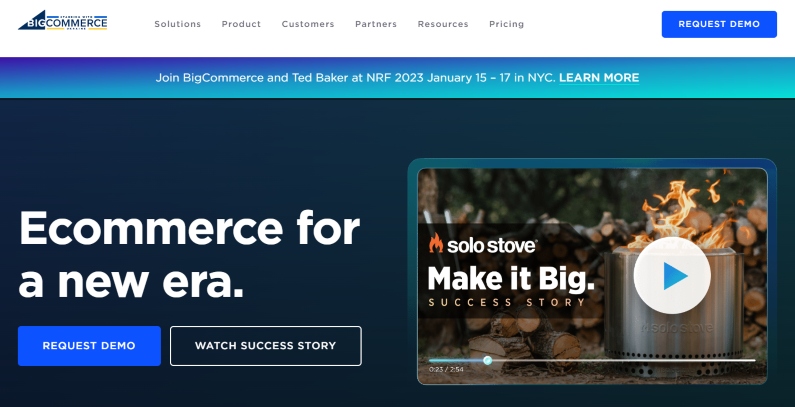 At number three on my list of top eCommerce platforms, we have BigCommerce.
In my opinion, you won't find much to dislike about BigCommerce:
This eCommerce site has powerful features and tools that will turn your newly created art business into a force to be reckoned with.
Millions of artists find BigCommerce an irresistible choice for their businesses because the platform provides them with everything they need to succeed.
However, the newbies might find the site a bit hard to handle, especially if they have no coding experience.
If coding is not an issue, you'll appreciate the multi-channel selling options of BigCommerce.
BigCommerce has a partnership with Alibaba, and you can utilize that to connect with thousands of fellow artists using the platform.
Pricing
Fortunately, BigCommerce offers a free trial – feel free to test the platform for two weeks without paying anything at all.
When that trial is over, you'll need to choose a paid plan – the Standard BigCommerce plan starts at $29,95 per month.
This plan will let you sell up to $50,000 a year without paying any transaction fees, and it comes with 24/7 professional tech support.
4) Wix Ecommerce
How many of you know that Wix is also one of the best eCommerce platforms for artists?
Chances are, not too many:
More often than not, Wix is a popular choice for people that want to start a blog.
Anyhow, Wix offers plenty of customization options. It will give you access to Wix ADI (AI tool) that will help you build a stunning art site.
Most artists using Wix take full advantage of the Wix App Store, and you should too – especially if you're selling digital art prints.
Wix will allow you to launch an art website for free, but you'll have to get a paid plan if you want to add a custom domain.
Wix Pricing
VIP (First Priority Support) – $30/month
Unlimited (Best for freelancers and entrepreneurs) – $18/month
Combo (Personal use) – $10/month
Connect Domain – $6/month
5) Weebly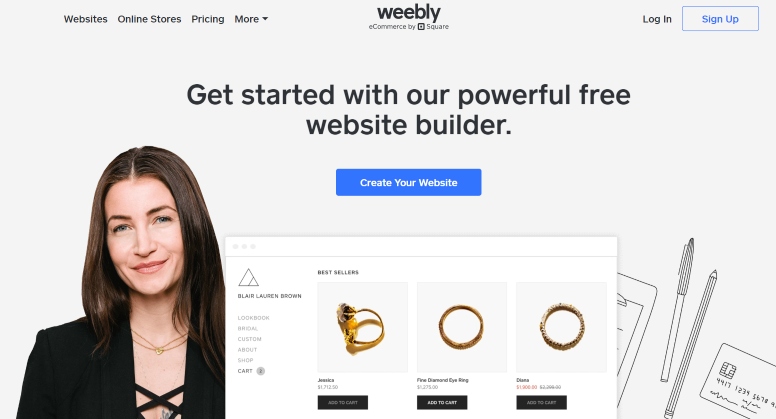 First and foremost, don't build an art store through the free plan of Weebly – that plan has limited features and options.
I believe Weebly deserves a spot on this list of best eCommerce platforms for artists mostly because it's more than affordable.
With that said, paying less is not the only reason to consider Weebly for your art store.
Weebly has built-in SEO features – that matter a lot if you plan to add blog posts to your shop.
The platform supports payment gateways like PayPal Express, Square, and Stripe.
Plus, Weebly offers tons of integrations, such as email service providers, shopping carts, and Social Media platforms.
Pricing
Free plan
Connect – $5/month
Pro – $10/month
Business – $20/month
6) Branchbob
Next on my list of best eCommerce platforms for artists is Branchbob.
Quite frankly, Branchbob is the perfect option for artists who are starting their businesses and have next to no budget:
Branchbob won't charge you any transaction or monthly fees.
Feel free to use this eCommerce site builder to list your artwork for sale.
Keep in mind that you can't sell digital products on Branchbob – you can only offer physical products.
Pricing
Again, Branchbob is free to use – don't expect to start paying anything on this platform.
7) Sellfy
Another free eCommerce platform you can use for your art business is Sellfy.
Actually, Sellfy offers a free plan, but you should know from the start that this plan is limited a lot.
With that said, Sellfy is an eCommerce site that will allow you to create an online store and sell graphics, photos, videos, and Print-On-Demand products.
You don't need any coding experience to work with the platform.
What I like about Sellfy is that it comes with plenty of built-in features, so you don't have to use add-ons or plugins.
Also, Sellfy has no limit on storage bandwidth or the number of products you can list for sale in your shop.
Sellfy Pricing
As I already mentioned, Sellfy offers a free plan.
However, if you want more options, you should get one of the paid plans that range between $19-$99 per month.
8) BigCartel
Well, what do you know – BigCartel happens to be also a free eCommerce platform!
Generally, most people consider BigCartel the most flexible eCommerce site for artists that also comes with helpful features.
BigCartel themes are mobile-responsive and provide an excellent user experience.
Nowadays, BigCartel will let you modify store features such as colors, fonts, and media.
In addition, the platform provides easy integration with Stripe, PayPal, and a few other payment gateways.
Pricing
A free plan (5 products)
$9,99/month plan (50 products)
$19,99/month plan (500 products)
9) WordPress
Even though it might come as a surprise, it's a fact that WordPress does belong to the list of best eCommerce platforms for artists:
After all, WordPress is the most popular website builder and content management system worldwide.
But do you know that WordPress has an eCommerce platform you can use to create an online art store?
If you decide to trust WordPress for your art business, all you'll have to do is install it on a hosting platform, pick a theme, and start listing products for sale.
There isn't much you won't be able to do with WordPress:
You can customize it in any way you see fit!
10) Square Online

These days, Square Online is not the most obvious choice when it comes to the best eCommerce platforms for artists.
Be that as it may, the site is worthy of your consideration:
Firstly, Square Online is very simple and easy to use – you won't have any problems managing it.
Secondly, the platform offers mobile-responsive and customizable drag-and-drop templates.
Lastly, Square Online has automation elements and features that will benefit your business.
Pricing
Square Online offers free and paid plans – the paid options will cost you between $12-$72 per month.
11) WooCommerce
To clarify, WooCommerce is not exactly an eCommerce platform itself:
Instead, it's the top eCommerce plugin for WordPress users.
Getting WooCommerce will allow you to build, launch, and develop a unique site that will best showcase your talent as an artist.
Even beginners will be able to manage WooCommerce – the plugin is easy to use.
More importantly, WooCommerce provides more control over your business.
For example, the plugin will help you start a dropshipping business, sell unlimited products, have Social Media integrations, etc.
WooCommerce Pricing
Considering WooCommerce is a free WordPress plugin, you don't have to pay anything to install it.
12) Pixpa
Alright, let's discuss Pixpa for a minute, shall we?
Basically, Pixpa is a platform that will allow you to build an online store where you can sell your artwork.
In my opinion, Pixpa is an excellent choice if you want to create a portfolio.
Using the platform is easy – you'll have access to plenty of templates to help you through the process.
It's worth mentioning that Pixpa provides 24/7 tech support, so you can get assistance if you need it.
Pixpa Pricing
Pixpa offers a free trial. Once that trial is over, you'll have to choose a paid plan.
The paid plans will cost you between $3-$16 per month.
More Best eCommerce Platforms For Artists
The Online Sales Platform For Artists
Shopify: An excellent choice for starting an online store
WordPress: Best for easy customization of design and SEO
Weebly/WordPress/Shopify: Platforms most artists use nowadays
The Best eCommerce Platforms For Artists – Frequently Asked Questions
What Is An eCommerce Platform?
An eCommerce platform is a software application that serves sellers and customers.
A seller uses an eCommerce platform to offer products or services for sale. And the consumer visits the eCommerce platform to discover products, add them to the shopping cart, and then check out.
Aside from a shopping cart, most eCommerce platforms provide product catalogs, order tracking, payment processing, and other features.
What Artists Need In Their eCommerce Business?
First and foremost, artists need a website that will allow their audience to easily navigate the available products until they find what they're looking to buy.
An art site must have a professional design, stunning images, and a product catalog.
What Kind Of Website Should An Artist Have?
Well, a great art website should look and feel like an online art gallery.
You'll have to display each product in a way that gives it enough space to showcase that product's best features and qualities.
What Is The Best Platform For Digital Artists?
Have a look at some of the best digital art software available:
Procreate
Clip Studio Paint Pro
Corel Painter 2022
Rebelle 5
Affinity Photo
Final Say
OK, this is all I have on the topic of the best eCommerce platforms for artists.
You can't go wrong with any of the platforms you see above:
They all will serve your business well and help you increase your online art revenue.
Do you have any questions on this subject?
Feel free to ask me anything you want in the comments section below.
More Platforms To Consider For Selling Your Artwork: