How To Sell Art On DeviantArt: Beginner's Guide
As you can see from the title, today we'll talk about how to sell art on DeviantArt.
DeviantArt has somewhat of a controversial reputation online:
Its core fans see the platform as the best Social Media Network for artists, while other artists prefer to avoid it.
More often than not, the truth is somewhere in the middle.
But is that the case with DeviantArt?
Should you join the marketplace, list your art for sale, and spend time creating connections on the platform?
The answers to all that (and much more) are coming up right now!
Recommended Read:
What Is DeviantArt And How Does It Work?

Before I show you how to sell art on DeviantArt, let me explain the essence of the site for those who hear the name for the first time:
To summarize, DeviantArt is an online platform artists worldwide can join to market their artwork.
While most art the site displays to buyers is in print, you can sell other types of art, such as drawings and paintings.
With that said, DeviantArt is hugely popular among artists for other reasons:
By all means, DeviantArt is more than a typical marketplace for selling art.
It's an online community where people can share their work and receive feedback from fellow artists.
Is DeviantArt A Good Place To Sell Art?
Whether DeviantArt is a good place for selling art is a question you'll have to answer after you join the platform and try it out.
Is there a better way to gain insight and first-hand experience of everything the website has to offer?
Nowadays, DeviantArt attracts a wide audience, to say the least:
Over 100 million art enthusiasts visit the platform and hunt for art to buy each month.
The site has over 70 million users, but the numbers are not the most interesting fact about them:
You'll be surprised how many of these users actively engage with the content on the platform daily!
According to Business Insider, DeviantArt is the 13th largest Social Network online.
Sure, DeviantArt may have fewer users than Facebook (an example), but that doesn't matter:
Each DeviantArt member has access to tons of tutorials to help them sell more art online.
And that's because DA wants to see its members succeed!
How To Sell Art On DeviantArt
1) Become A DeviantArt Member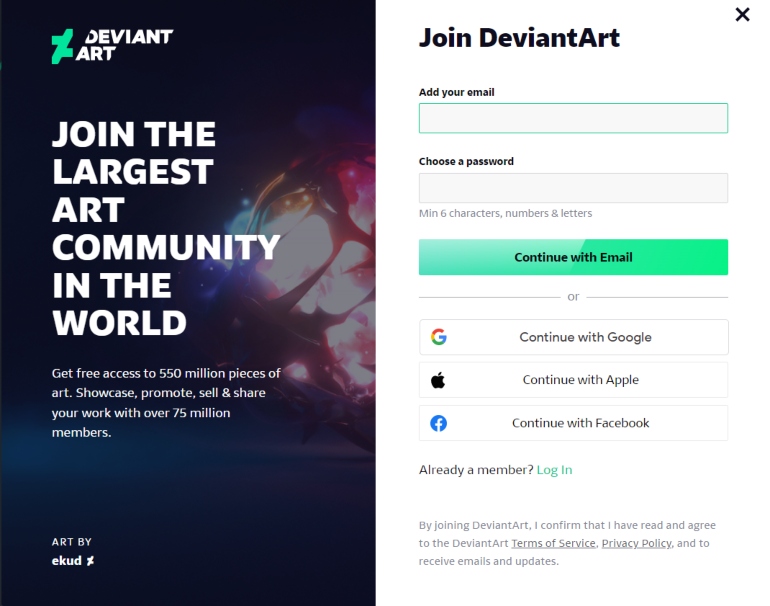 You have to join DeviantArt before you can start selling on the platform.
Now, DeviantArt is not free to join:
You can choose from four different types of memberships once you decide to join the site.
The fees you'll have to pay will be as low as 2.5% – the exact amount you'll pay will depend on your membership type.
What do you get once you agree to pay the platform's fees?
Well, you'll get quite a lot from DeviantArt:
For example, members receive art protection, access to statistics, the chance to customize their profiles, and schedule posts.
Moreover, DA users can organize their art into sub-galleries.
Plus, they can gift a Core Membership to other members.
2) Create High-Quality Photos Of Your Art
Here is the deal about selling art online:
Since you're working within a visual market, displaying art images of the highest quality is non-negotiable.
If you want your art to sell itself to clients, you'll have to put effort into the quality of your art photos.
Feel free to ask a friend who is a photographer to take photos of your art.
Don't forget to edit your images with an editing tool, so the colors on your prints and original artwork will match.
3) Sell Art Prints With DeviantArt Points
I'll explain what DeviantArt Points are for those who are not familiar with the term:
DeviantArt Points are a feature the platform provides for its members.
All artists working with DeviantArt can sell their art to other members by using points as a form of payment.
Keep in mind that these points work as money only on DeviantArt – you can't use them in the same way anywhere else.
Points are more than a valuable feature, especially if you plan to create DeviantArt Commissions – you can only do that with the points.
4) Sell Fine Art Prints Through The DeviantArt Print Program
I shouldn't keep covering how to sell art on DeviantArt without taking the time to mention the site's print program:
Anyone can create a free DeviantArt print account.
Once you do that, you'll gain access to everything you need to sell your art images as prints.
The platform will allow you to manage your art gallery, see how your work is performing, and edit your artist bio.
Again, you don't have to pay anything to be able to do that – anyone can join the DeviantArt Print Program for free.
5) Sell Commissions
Next on my list of ways to make money on DeviantArt is the Commissions feature.
By all means, no artist would refuse the opportunity to commission their artwork and create art pieces to sell individually.
If you decide to use DeviantArt Commissions, clients will reach you directly – you'll be the one to decide whether to accept or reject their requests.
Don't be surprised if customers ask you to print your art on products like magnets or postcards!
Other Ways To Make Money Selling Art On DeviantArt
Subscriptions: Using DeviantArt Subscriptions will create a source of passive income for you. That feature will bring you recurring revenue from people who subscribe to your art.
Galleries: Premium Galleries will let you share your exclusive artwork in a gallery people will only be able to access after submitting a one-time payment.
Premium Downloads: In short, Premium Downloads is a feature you can use to set a price for each download of your resources.
Other Platforms You Can Join To Sell Your Art:
How To Sell Art On DeviantArt – Frequently Asked Questions
Is It Free To Sell Art On DeviantArt?
Working on DeviantArt comes with a set of fees any artist using the platform will have to pay.
You'll set your prices as an art creator, and DeviantArt will receive a fee for every artwork you sell.
Note that having a DeviantArt Core Pro or Core Pro+ Membership will lower the fees you'll need to pay each time you sell an artwork.
Do DeviantArt Artists Get Paid?
Once you accept a commission request, the earnings will be deposited in your account.
It takes a week for the platform to review the transaction.
If the transaction is approved, you can receive your earnings via BitPay, PayPal, or DeviantArt Points.
How Much Is $1 In DeviantArt?
One dollar is worth 80 DeviantArt Points.
Final Say
Do you know everything there is to know about how to sell art on DeviantArt already?
Assuming that you've read this article carefully, the answer should be yes.
But what if it isn't?
Well, then ask me further questions in the comments section below!
Related Articles: